Profile: Corinne Bortniker '15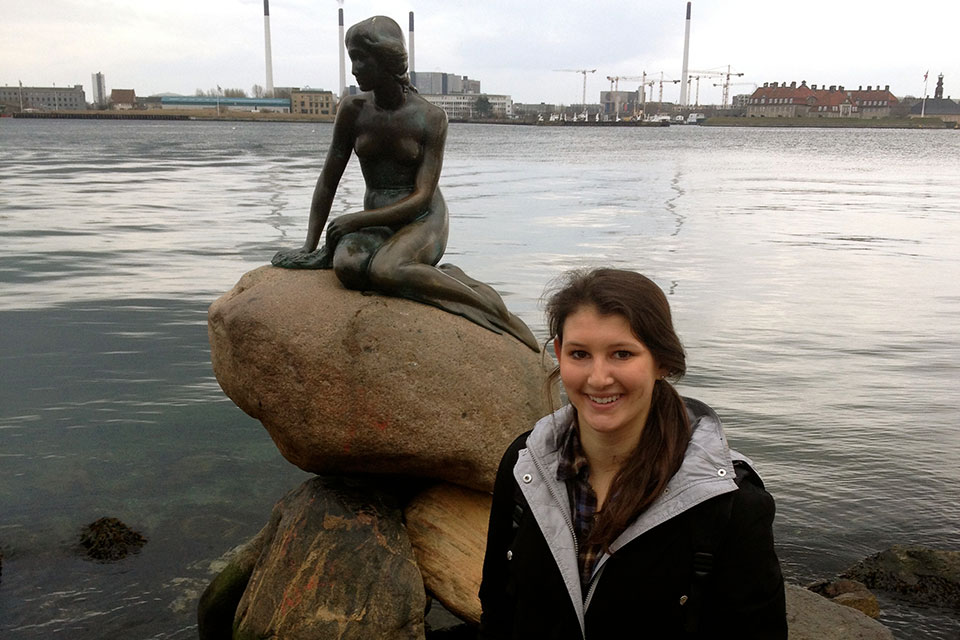 Major/minor: Business and Psychology majors
Sport played at Brandeis:  Soccer
Study Abroad Program: DIS-Danish Institute for Study Abroad, International Business Track (Spring 2014)
Reason you chose this program: I wanted to study in place that I would not have traveled to on my own accord. From all the research I read both about DIS and the city itself, it seemed like the ideal place to live temporarily. Copenhagen is such a unique and small city so it seemed like a great place to call home for the duration of the program.
Why did you choose to study abroad when you did? How did you plan around your sport?: The primary soccer season is the fall so spring was my only option. I took advantage of the off-season and let my coach know a year in advance that I was planning to go abroad.
Favorite class(es):  The course was titled Partners and Rivals: EU-US. The professor was extremely knowledgeable and it was a class that I would never have taken at Brandeis. I learned a tremendous amount about the political history of the EU and the professor gave color to many of the situations the world is facing today.
Housing situation: I lived in an international kollegium. This is apartment style living where Danes, Copenhagen University students and DIS students all lived.
Were you able to play your sport or another one while abroad? Did you do anything to stay in shape?: I was able to participate on a women's soccer team and joined a gym. When I traveled I would bring one set of workout clothes and run in the mornings before touring during the day.
Best memory: Going to Barcelona and getting to explore the city with two of my good friends on my program as well meeting up with other Brandeis soccer players and friends. The combination of old and new friends as well as exploring a beautiful and exciting city culminated into one of my greatest experiences while studying abroad.  
Greatest challenge: The greatest challenge I experienced was adapting to changing plans while traveling. Nothing ever goes as planned and it takes a little while to adopt to the go with the flow nature while trying to learn and blend into new cultures almost every other week.
What you know now that you didn't know before: By putting myself in entirely new situations as I traveled around Europe, I constantly surprised myself and learned new things about myself. Studying abroad is not just about exploring new cultures, it is also learning about who you are as a person.
Fact about (city/country) that you think people would be surprised to learn: While Denmark is known as the happiest country in the world, it is not because everyone is always happy. This is a result of the Danes being taught at young age to not expect anything extraordinary and therefore everything exceeds expectations leaving the Danes content.