Profile: Danielle Gaskin '18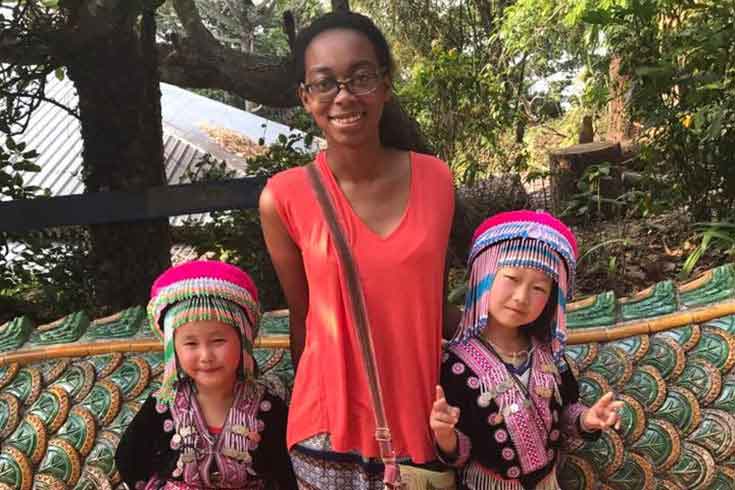 Major/minor: Health: Science, Society, and policy (B.A Candidate) and International and Global Studies; minor: Classical Studies
Study abroad program: MSID/ International Development in Thailand (Spring 2017)
Reason you chose this program: I chose to study abroad in Thailand because I wanted to learn about health care and maternal and child health in a non-Western context.
Favorite class: Beginning Thai was a great class to learn the foundations of the Thai language to apply outside of the classroom, especially in the internship period. I also enjoyed the Country Analysis course. In Country Analysis, we discussed Thai culture from an anthropological lens. My favorite topics were minority groups in Thailand and gender.
Housing situation: I lived in a homestay in San Kamphaeng. My host family included a mother, father (who served in the Thai military), two younger sister, and maternal grandparents. Living in San Kamphaeng was truly an adventure because it was an hour and a half commute from school so I would take two tuk tuks and walk to school every morning.
Best memory: My best memory is buying water guns with my fellow students and challenging everyone in the city to a water fight during Songkran, the Thai Water Festival.
Greatest challenge: The greatest challenge was the heavy environmental studies component. I am not accustomed to hiking and other outdoor activities but my classmates always lifted my spirits and cheered me on when climbing through the organic farm in a Hmong village. On the other hand, it was valuable to gain another perspective on international development and health.
What you know now that you didn't know before: Although there are language barriers, much of communication is nonverbal and expressed through your body language and hand gestures.
Fact about (country) that you think people would be surprised to learn: Thai people do not eat with chopsticks or with forks. You handle food with a spoon in the right hand and a fork in the left. However, you only eat off the spoon.