Profile: Dahiana Loaiza '18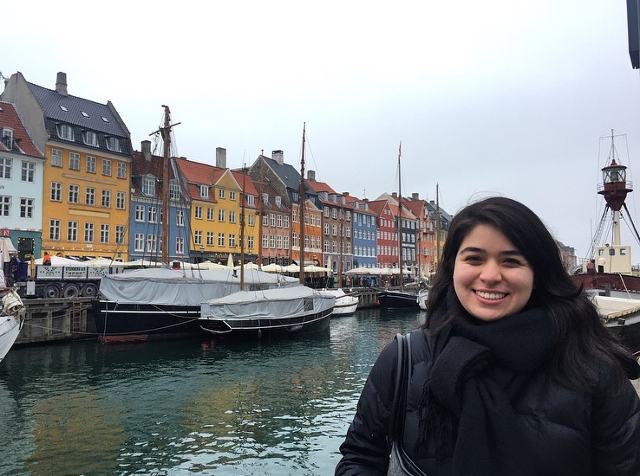 Major/minor: Psychology and HSSP major, Hispanic Studies minor
Study abroad program: DIS/ Child Development and Diversity in Copenhagen, Denmark (Spring 2017)
Reason you chose this program: The program focuses on a cross-cultural approach to childhood and adolescence and reflects on the unique Nordic pedagogy of the 'good childhood.' Within the program there is a practicum component that allowed me to develop interpersonal skills by actively engaging at a Danish childcare institution. In addition, the curriculum addresses the contemporary issues facing professionals working with young children, as well as how services for children and families in Scandinavian countries differ from approaches in the rest of the world. Interacting with the children gave me the chance to practice the skills I have acquired in the classroom. Furthermore, since Brandeis offers a smaller selection of psychology classes focused on child development, the program gave me a wider selection of courses in this area. The program focused on diversity and how it plays a role in the development of children. I think it is important to integrate diversity into an academic curriculum because it offers a variety of approaches to consider, and it is something that has not been incorporated much into my classes.
Housing situation: I lived with a host family: Morten (host father), Lisa (host mother), Klara (9 year-old host sister), and Olivia (5 year-old host sister). I got extra lucky because Morten's parents live next door so I also had host grandparents! My reason for choosing a home stay as my housing option was because I wanted to live like a local and share similar experiences Danish people have daily. I wanted to develop a close-knit relationship with my host family and pick up the language faster. I feel very fortunate to have been able to establish a close relationship with my host family (although I'm still working on the language part… Danish is by no means an easy language to learn). It was great to be able to learn so much from them but also share my personal experiences and culture. I felt like an older sister and it was such a warm feeling coming home and having the girls run to me and greeting me as if they hadn't seen me in so long! My Danish family really shaped my abroad experience and they were able to make me feel at home.   
Best memory: I made many wonderful memories abroad but one of the best ones has to be having dinner with my Danish family every night. Unfortunately, here in the U.S. my family and I do not all gather together and have dinner every night. The fast pace lifestyle and everyone's schedule doesn't line up for that to be possible. I am grateful that this is something I got to experience and it truly made me understand the importance of family unity. It was such a great feeling to come home after classes and know that everyone would be there ready to share a meal together. It was a time to decompress from a long day and hear about how everyone was doing. Dinner with Klara and Olivia meant chaos and a lot of laughter. This was also a great opportunity for me to be more exposed to the language and practice my Danish although the girls found it extremely funny when I tried to speak.
Greatest challenge: Dealing with the challenges that come with being a student of color abroad. Denmark is a homogenous society and over the course of the semester I realized how much I missed being in a place where you could meet people from all different backgrounds. This of course meant that I couldn't eat any authentic Hispanic food and there was no place where I could find Latin dancing, which I missed a whole lot. The lack of diversity is something that I began to notice was causing me to feel homesick at times. Not being able to culturally relate was difficult at times but I was surrounding by a great group of friends and host family that supported me and helped me through the difficult times.
How did this experience influence your academic and career plan: The Child Development and Diversity program strengthens my academic profile by allowing me to practice what I have learned in an academic setting. My willingness and desire to learn about new perspectives and ways of thinking in an academic setting are crucial because they are the foundation to effective problem solving. Moreover, as someone who wants to work internationally in the field of child development after graduation, this has been an amazing opportunity to get a sense of the work I can get involved with. Experience abroad is highly recommended when applying to programs like the Peace Corps, therefore I will be a strong candidate because I have travel experience. I whole-heartedly believe that involvement outside of the classroom is what truly creates a well-rounded student leader because being apart of a new journey brings challenges and allows for personal growth.