Profile: Georgia Nichols '18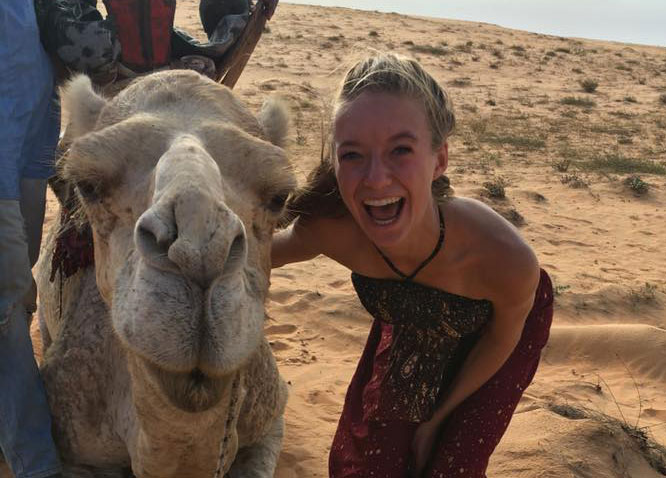 Major/minor: International and Global Studies/French and Francophone Studies
Study abroad program: CIEE/ Development Studies Program in Dakar, Senegal (Fall 2016)

Reason you chose this program: The CIEE Development Studies program in Dakar, Senegal encompassed every aspect that I hoped to experience for my semester abroad, particularly the opportunity to improve my French.  I had the choice to take my classes in French while simultaneously being immersed in a French-speaking country.  In addition to the language aspect, I wanted to experience living in a non-western culture. 
Favorite class: My favorite class was my Wolof class, where I learned how to speak and write in Wolof, the local language of Dakar.  I had a fantastic teacher, and the content we learned was necessary for every day situations.  Learning Wolof allowed me to better connect with and learn from the people I met in Senegal.
Housing situation: My program had a homestay aspect, and I stayed with a family made up of a mother, her two older daughters and her young grandson.  I loved living with them as they included me in their family activities and I felt like part of their family. 
Best memory: I had an internship with an NGO called Samu Social, which protects street children in Senegal.  My best memory is getting to know the children living at the Samu Social home throughout my semester.  I also loved the program excursions, in particular the 2-day camping field trip to Desert de Lompoul where we rode camels and played on the sand dunes. 
Greatest challenge: My greatest challenge was figuring out how to become independent while in Senegal, however once I learned how to use the public transportation system it became much easier. 
What you know now that you didn't know before: I now know how welcoming most people in Dakar are.  There were multiple times when I was walking home and I would be invited to eat dinner or drink tea with the families of people I had just met.  I also learned how incredibly safe Dakar is in comparison to other cities around the world.
Fact about Senegal that you think people would be surprised to learn: Many people don't realize that Senegal is a majority Muslim country.  During my semester there, I had the opportunity to celebrate multiple Muslim holidays with my host family, such as Tabaski.