Profile: Heather Gitler '17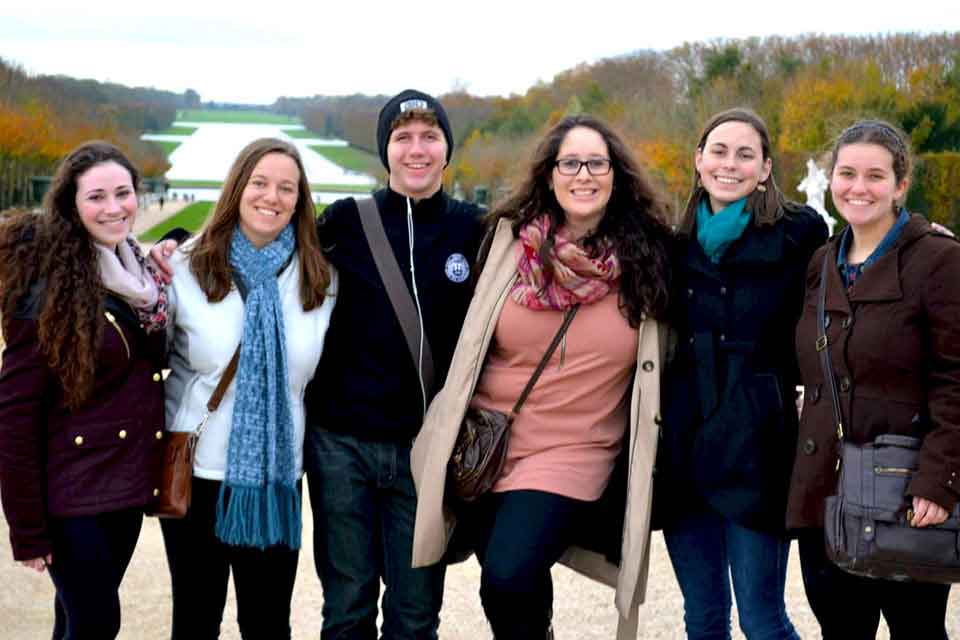 Major: Double Major in Creative Writing and Film, Television, and Interactive Media
Study Abroad Program: Midyear Semester in London, England (Fall 2013)
Reason you chose this program: After being accepted to Brandeis as a Midyear and knowing Brandeis was the school I would choose, I got really upset and worried about what I would do first semester. But as soon as I figured out that studying abroad was an option, London was an immediate decision. London was somewhere I had always wanted to go.
Housing situation: 11 Palace Court, a townhouse style residence.
Best memory: I have way too many memories that are amazing to be able to pick a favorite but I'll just mention our day trip to Brighton, England (a small beach town about 1.5 hours from London). We went in a large group of nine and took a bus for only £5 (about $8). It wasn't the warmest day but there were nice patches of sun. We spent the day on the beach, putting our feet in the water (though it was freezing), taking pictures, and walking along the long pier that had carnival games, an arcade, and rides. It was a really amazing day that I'll definitely remember.
Greatest challenge: I think my greatest challenge was going from living in an apartment with just my parents and just having to do dishes and make my bed—and otherwise being taken care of—to living in a house with 32 other students and having to take care of myself. Eighteen-year-olds who are away from their parents for what is usually the first time can get lazy about cleaning up after themselves and aren't always the most respectful of their surroundings. So, sharing a house was not always the easiest, especially in the kitchen where we're rightfully expected to do our own dishes. But you learn that sometimes you've got to just roll with it and take responsibility, even if it's not yours to take. Also being isolated with the same group of friends for four months got stressful at times but I think we all came out better friends because of it.
Favorite classes: Introduction to British Media and Cross Cultural Connections
What you know now that you didn't know before: After my London experience, I now know how capable I am. Graduating high school, I still felt like a kid putting on her mom's high heels. Having my first college experience be in a foreign country was a complete turning point for my self-image. From September through December, I studied in a foreign country (and I'd never been to Europe before), met a whole new group of friends, and traveled without a chaperone to four different countries. Without an adult, my friends and I managed to navigate three cities in Spain (a country in which most of us spoke only a little of the language), and Paris, France, where only one out of the six of us spoke any French. We took nine-hour long bus rides, international flights, and train rides and organized it all by ourselves. Walking across the stage at high school graduation, none of that seemed possible. But now I realize how capable and mature I am, thanks to my London experience.
How did this experience impact your arrival at Brandeis in January: I was worried about college until London. Though getting on the plane in September was slightly terrifying, I easily found friends and we talked in the airport, on the plane, and then once we got to London. Because it's such a small group, it's easy to latch together quickly. So despite the fact that my "going to college" experience was going to another country with a bunch of strangers, it was not very traumatic. When I got to Brandeis in January, I had a great group of friends and a lot of wonderful experiences to share, which definitely eased the stress of getting to campus for the first time.
Fact about the UK that you think people would be surprised to learn: The national dish of the United Kingdom is Chicken Tikka Masala. Chicken Tikka Masala is adapted from an Indian dish (Chicken Tikka) but has a sauce (Masala) because the Brits like a sauce with their meat.
Anything else you'd like to include: The only other thing I have to say is that going to London first semester was the best experience of my life so far and I'd do it again in a heartbeat!