Profile: Isabella Stork '18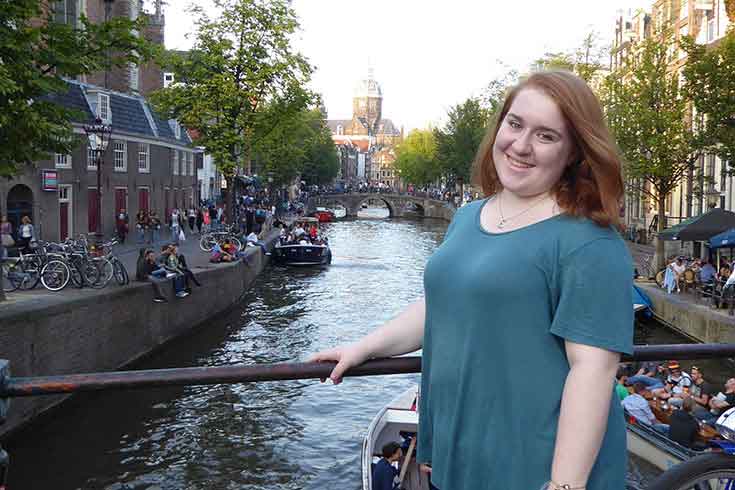 Major/minor: Psychology and Anthropology; minor: Health: Science, Society, and Policy
Study abroad program: University of Maastricht/ Center for European Studies (Fall 2016)
Reason you chose this program: I knew before I started researching programs that I wanted to be somewhere in Europe so that I could explore the continent as much as possible, and that I wanted to go somewhere I had never been. I was mainly looking at programs in the UK, but I ultimately chose a program on the mainland because travel would be more accessible. I chose Maastricht because it is very central in Europe and is near 7 different airports for easy travel, while also being a relatively inexpensive city to live in. Maastricht was also highly recommend to be by a friend which definitely helped my decision.
Favorite class: Child Neuropsychology
Housing situation: I was living in international dormitory-like housing. All of the students living there were from outside of the Netherlands and came from all over the world. We had communal kitchens at the end of each corridor, and we really got to know our hallmates and their cultures. I lived in a very large double with another American student from Los Angeles.
Best memory: I can't possibly choose one so I will list several: watching the sunset over Lake Geneva, seeing the French Alps in Chamonix, eating the biggest cinnamon rolls in Stockholm, running into my first-year roommate on the streets of Amsterdam, going to an arts fair in Lisbon, getting up early to watch the sunrise over Prague, going to the beach in the Hague, and traveling the world with people that are now my life-long friends.
Greatest challenge: Though most everyone speaks English in the Netherlands, it was still very challenging to traverse the grocery store when there is limited Wi-Fi. I definitely made it work, but it was difficult at times.
What you know now that you didn't know before: I now know that Maastricht is a hidden gem in Europe, and is a quintessential European town that is known for the Treaty of Maastricht (effectively starting the EU).
Fact about the Netherlands that you think people would be surprised to learn: The Netherlands have no stray dogs! They have very high taxes on buying puppies from a breeder, so more people adopt from shelters. Also, the Dutch love licorice, so if you don't know what flavor a candy is, it's probably licorice.