Profile: Lauren Cohen '18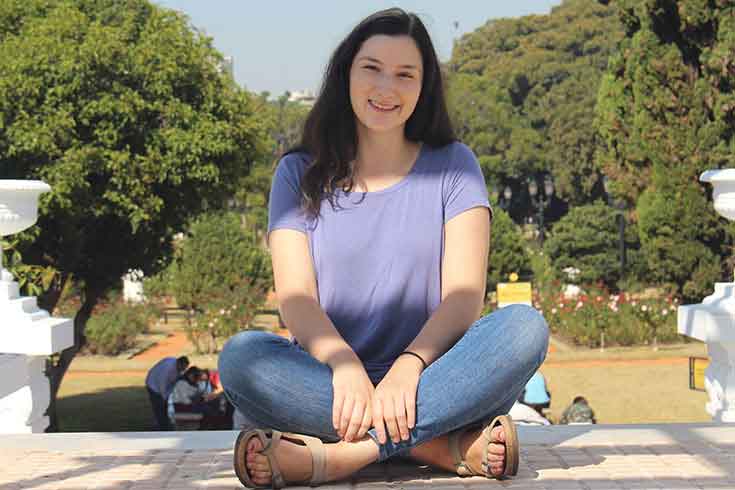 Major/minor: Psychology and HSSP major, Hispanic Studies minor
Study abroad program: IFSA-Butler/ Argentine Universities Program ( Spring 2017)
Reason you chose this program: Before I entered Brandeis as a Midyear, I spent a semester in Seville, Spain through the CIEE Gap Semester Program. Once I arrived on campus, I knew that I wanted to have another abroad experience during my time in college and was really interested in continuing practicing my Spanish in South America. The direct enrollment structure of IFSA- Butler really appealed to me since I would have the opportunity to engage with locals by learning alongside them.
Favorite class: My favorite class was Problems of Mental Health in Argentina at The University of Buenos Aires (UBA).  Although the coursework was challenging and the class turned out to be more theoretical than specific to Argentina, it was really rewarding being able to give a presentation in Spanish to a class full of Argentinians at the end of the semester. Also it turned out that my Argentine professor had actually written a chapter of a book with Peter Conrad, a Brandeis professor, who I had class with the semester before. Talk about a small world!!
Housing situation: I lived with a host family during my semester in Buenos Aires. My host mom was a Psychologist and held her sessions in our apartment which is pretty commonplace in Argentina; they have one of the highest concentrations of Psychologists per capita! Neither my host mom or host dad spoke English so the homestay provided me with an amazing opportunity to refine my Spanish skills. Having delicious home cooked meals and people who were invested in making sure I had the best time I could really made a difference in my abroad experience.  
Best memory: It would be impossible for me to just choose one but it would have to be my trip to Bariloche, a city located in the Northern part of the Patagonia region. I was a bit wary about traveling with six other friends but we ended up staying in the most gorgeous Air B&B overlooking a lake and spending the days attempting a 27 mile bike ride, hiking, and sampling the chocolate from the "chocolate capital of Argentina". Living in a large city such as Buenos Aires could sometimes be chaotic and overwhelming so I always cherished the times I got to explore the rest of the country and experience life in Argentina at a different pace.
Greatest challenge: My greatest challenge was navigating the public transit system in Buenos Aires. They have a pretty comprehensive system with both a subway and buses so it was very daunting when I first arrived. But after a few weeks, and a few experiences getting slightly lost, I started to feel more comfortable and became confident exploring other areas of the city via public transit!
What you know now that you didn't know before: After coming back from Argentina, I am a lot more aware about not generalizing by saying "America" or "I'm American" and instead specifying to "North America" or "I'm from the United States" since that type of language was often viewed as hurtful or ignorant. This plays into just one of the ways I feel that my experience abroad made me more globally aware.
Fact about Argentina that you think people would be surprised to learn: Argentinians use a word, "fiaca" which basically means to do nothing- but is a totally accepted and even valid reason for not wanting to do something. Not to say that Argentines are lazy, but they have a different sense of urgency than we do in the U.S and really value their down time and living in the moment.