Profile: Madeline Engeler '16
Majors: Biology & Health: Science, Society, and Policy
Semester/year abroad & program: Spring 2015, Brandeis-Indian Institute Science Scholars Program
Reason you chose this program: This program allowed me to not only study abroad as a science major, but gave me the opportunity to study at a challenging level of academic rigor and research at one of India's top institutes.
Why did you choose to study abroad when you did: To immerse myself in a culture and to meet the most fascinating people from across the globe. And to eat Indian food!
Classes you are taking: Physiology, Biochemistry, Introduction to Earth Systems & Lab
How does the education system of your host country differ to the US: Due to the sheer number of students, every aspect of education is much more competitive and you are held to a high standard to excel.
Favorite class(es): Physiology
Housing situation: Dormitory
Best memory thus far: Attending an Indian wedding
Greatest challenge and how you overcame it: Overcoming initial culture shock. Dealt with it head on by immersing myself in the culture though traveling as much as possible.
What you know now that you didn't know before: The greatest part about studying abroad is the people you meet, not the places you see. I have made friendships with students across the globe that I will cherish forever.
Anything else you'd like to add: Everyone should study abroad! Once in a lifetime experience that I will remember for my whole life.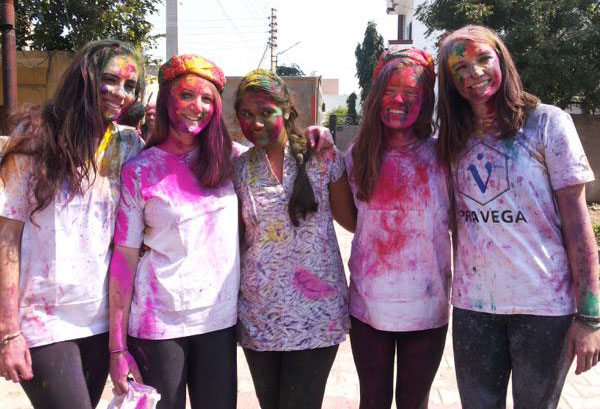 Maddie and her friends celebrate Holi