Profile: Nadine Channaoui '10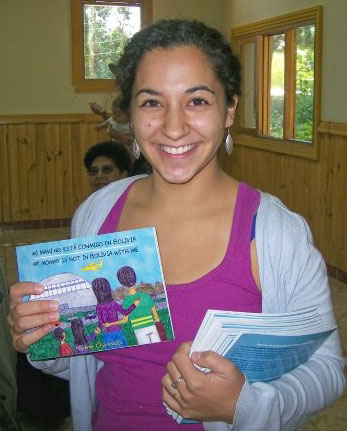 Major/minor: Psychology
Study abroad program:  SIT/ Culture and Development, Bolivia (Fall 2008)
When I was trying to figure out which study abroad program would suit me, the two features I sought out were the opportunity to improve upon my Spanish and the ability to learn from a country developmentally different from the United States. The School for International Training (SIT) offers a program in Bolivia that beautifully laced those two features. At the time, travel had not been part of my life, and while I was incredibly eager to get started, I was also intimidated by my capacity to integrate into the culture, program, and academic environment. Fortunately, I was selected to receive the Benjamin A. Gilman International Scholarship, which served as a riveting reminder that, not only was I capable of "getting through" the semester abroad, but that the experience could potentially be monumental in my development as an individual.
Monumental it was. Inevitably, there were challenges I faced throughout the semester. At the time I was studying abroad, Spanish seemed like my biggest hurdle. I sometimes felt frustrated that I was unable to express the deeper side of me to people simply because I didn't have the words to do so. In retrospect, I also think that being slightly introverted and needing time to reflect independently was difficult to balance with the seemingly constant flow of information to take in, people to meet, and experiences to witness. I feel like it can be overlooked that being abroad is hugely stimulating, and every person processes such profound stimulation in different ways.
Through the challenges were incredible opportunities. My favorite and most influential experience was writing a children's book about Bolivian emigration as my independent study project. Not only was the field work -which involved talking and doing art work with children - richly rewarding, but the process of getting the research into the format of a publishable children's book was fun and exciting. I participated in talking to local publishers and authors, figuring out the aesthetic appearance for my book (and that of other SIT students), and illustrating my own story. This project ended up spear-heading my application for a Fulbright grant, which I was rewarded with my senior year at Brandeis.
Since studying abroad, I have sought out a career as a cancer genetic counselor. In complementation to the general responsibilities of the job to counsel patients about their risks to carry a hereditary cancer syndrome, I have consciously made an effort to tie in my passion for international perspectives. For example, during graduate school I created a novel clinical rotation in Spain and wrote my thesis about communicating difficult health diagnoses to relatives in other countries. I am often looking for my next big adventure abroad and genuinely know there is more in store for me. My most recent trip was a 5-week volunteer exchange in Costa Rica, where I was serving as a yoga instructor on a sustainable farm. The intimidation I felt before I studied abroad has absolutely subsided, not only in terms of travel, but also in relation to my career goals and personal aspirations. I feel infinitely connected to this wide (but surprisingly small) world and capable of making my mark in whatever way that may be.