Profile: Rachel Swanwick '16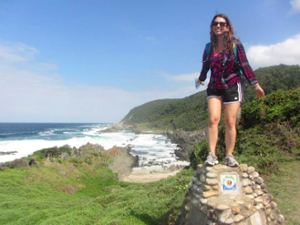 Major/minor: International and Global Studies and Environmental Studies major
Study abroad program: CIEE/ University of Cape Town (UCT) (Spring 2015)
Reason you chose this program: Cape Town offered me the chance to experience an entirely new culture, place, and environment. I knew I wanted to be living in a city and remain close to lots of great outdoor activities so Cape Town became the perfect option. I was able to explore the incredible city of Cape Town while being within walking distance to the mountains and beaches.
Favorite class(es): Global Change Biology taught by the Biology Dept. Staff. At UCT many classes are taught in two-week sessions by the entire departmental staff.
Housing situation: I lived in a UCT dorm called Forest Hills with two South African students and one American study abroad student. We had our own rooms with a shared balcony overlooking Devils Peak, shared kitchen space, bathroom, and toilet. I felt that this living option was the absolute best given what CIEE offers. I was able to feel really connected to the UCT community by living with and being in school dorms while also interacting with the other twenty American students living there. I had views of Table Mountain National Park from my balcony and regularly saw zebras grazing across the hill. We also had a dorm pool!
Best memory: I was lucky enough to take a road trip to Kruger National Park, which was without a doubt one of the most memorable experiences from my time in South Africa. I drove across the country and into the National Park where we went on different game drives, drove ourselves through the park, and camped along the way. I saw the most incredible animals in their natural habitat such as lions, cheetahs, leopards, elephants, and rhinos just in the four days I visited. It was an experience of a lifetime.
Greatest challenge: Adjusting to a different way of life and being aware of the historical legacies that are present in a particular place was a big learning experience for me. South Africa is very much a blossoming nation but there are many first-world luxuries that I have become accustomed to which I now very much do not take for granted. Load shedding or loss of electricity happens every so often depending on that week's energy use and I was surprised to go to class and have lectures in the dark because there was no electricity at that time or be studying for finals in the dark. It only lasts a few hours but adjusting to a lower level of infrastructure was both a challenge and an awakening.
What you know now that you didn't't know before: I now know that everyone and every place has a different life story from the standpoint of a peoples and a nation. It is so important to be open to experiencing a new perspective and outlook on the world in order to truly grow and progress.
Fact about (country) that you think people would be surprised to learn: South Africa has one of the most biologically diverse and rich ecosystems in the world. There are countless species found there that cannot be found anywhere else and the concentrations of plant and animal life in this relatively small nation is immense. But with the pressures of human land use and climate change there is a chance that many of these beautiful and currently undiscovered species will never have an opportunity to be known to humans.