Profile: Sara Cardenas '17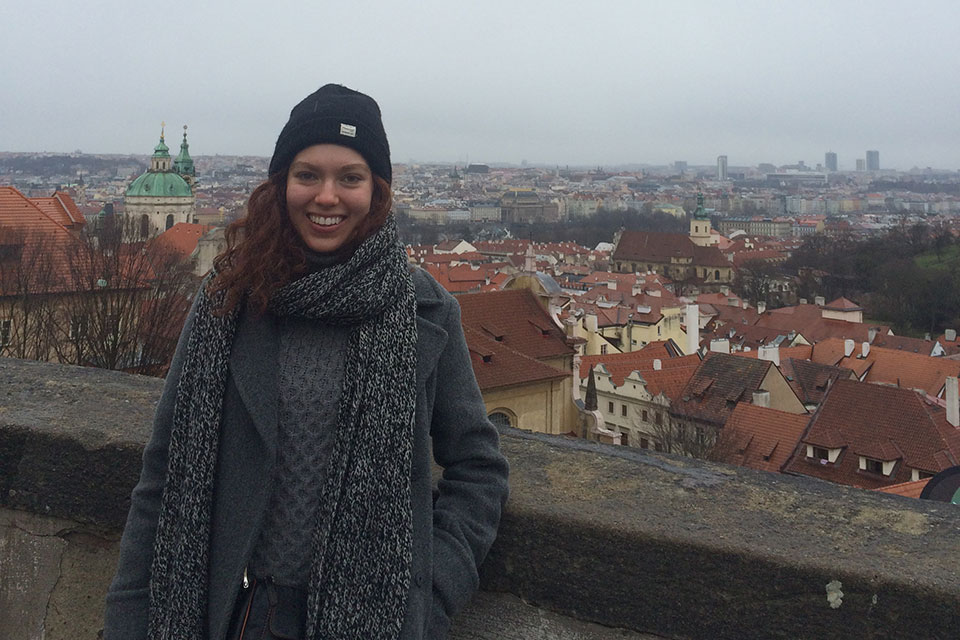 Major/minor: Anthropology and International & Global Studies Major, Creativity, the Arts, and Social Transformation Minor
Study abroad program: SIT/ Czech Republic: Arts and Social Change (Spring 2016)
Reason you chose this program: I chose this program for several reasons. First, the Art and Social Change theme fit perfectly with my studies at Brandeis as well as my personal passions and interests. I was determined to create a meaningful study abroad experience that wasn't just about going to another country for a semester, so the academic aspect was important. However, I did not want to spend my entire semester sitting in a classroom, which is why I was really attracted to SIT's commitment to experiential learning. Finally, I wanted to go somewhere I had never been before and maybe someplace a little unusual and the Czech Republic seemed to fit the bill.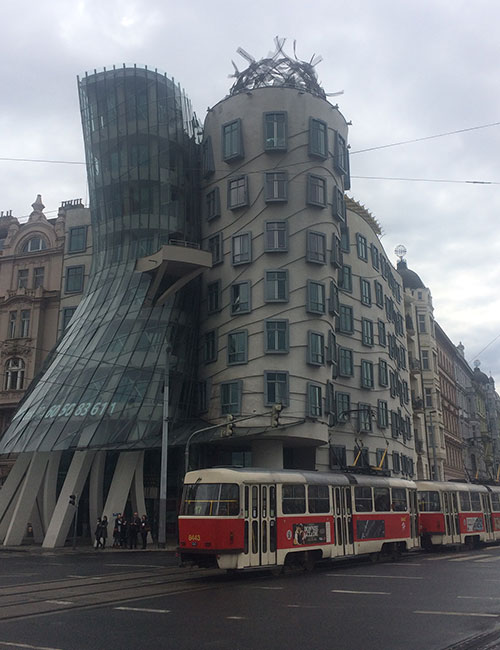 Why did you choose to study abroad when you did: I wanted to make sure that I had already completed the majority of my major and minor requirements before I left, so Spring of my junior year seemed like the perfect time to go. By going to the Czech Republic, I was able to apply my experience and learning from my classes at Brandeis to a completely different context. Choosing to finish an additional semester at Brandeis before I left to study abroad meant that I had an even greater foundation of knowledge to work with and guide me through my studies in Prague. It really turned out to be a good decision.
Favorite class(es): My favorite class in Prague was definitely Czech History, Arts, and Civil Society II: Creativity in Context, or CHACS. This was my chosen elective my semester abroad. Each week we had a set of readings about a local NGO or nonprofit as well as the specific social or cultural issue that that particular organization addresses. During class time, we visited and met with the organization leaders that we had read about. The organizations we met with dealt with a variety of topics ranging from drug addiction, female homelessness, the migration crisis, and the environment. It was an incredible opportunity to learn about current social and cultural issues in the Czech Republic and compare or contrast them to issues in the U.S. During the first class, we learned that the culture of charity and giving that we take for granted in the U.S., thanks to the Communist legacy, does not exist at all in the Czech Republic. As a result, Czechs are quite wary and even suspicious of NGOs and nonprofit organizations. It was amazing to have the opportunity to learn from individuals in Prague who are actively fighting this cultural mistrust of giving, and striving to make a difference in their country.
Housing situation: I lived in a homestay while in Prague. My family was actually quite large, two parents and six children, but I lived at home with just my host parents. I was nervous about doing a homestay before I left for the Czech Republic but it actually turned out to be an amazing experience. I like to describe my family as a family of activists. They are so incredible open-minded and socially active. I loved having a homestay because it gave me an opportunity to meet and socialize with native Czechs. Since I didn't go to a Czech university while in Prague and all of my classmates were Americans, it was comfortable and easy to stay in my little SIT bubble with my American friends. However, the homestay forced me to step outside of that bubble and engage with the city and the culture in a different, everyday way that was intimate, authentic and separate from school.
Best memory: It is impossible to pick a favorite memory from my semester abroad. There are so many good ones! From having Art History classes at the National Gallery in Prague, to learning about straw-bale houses in Slovakia, discovering the horror that is communist chocolate in Poland, and stuffing my face on the banks of the Vltava at the Náplavka market every Saturday, nearly everyday was an adventure. However, one of my top memories is from my regional stay in Nové Město Pod Smrkem, a small Sudeten village near the borders of Poland and Germany. In March, my study abroad group was split into groups of three and sent to various villages in the former Sudetenland region. I was sent with two of my classmates to Nové Město where we stayed at the local Dům Děti, or children's home. The Dům Děti organization has centers around the Czech Republic that provide extracurricular and after school care to at risk children and youth. The first full day of my stay in Nové Město, the boys enrolled in the local Dům Děti's beekeeping class, whom we called the "bee boys," took us on a snowy hike through the Jizera Mountains. About halfway up a narrow, steep, and thoroughly treacherous trail, one of the bee boys turned around and announced, "I think we're in Poland now." As a Los Angeles native, it was the first time I had hiked in the snow or across any kind of border. At the top of the hike, we climbed an icy pile of rocks for a breathtaking view of both Poland and the Czech Republic. The expanse of forest at my feet was laden with thick layers of white snow. I felt as if I had stepped into the magical world of Narnia. I was violently shivering and my legs felt like Jell-O but I knew then that this was going to be one of the most memorable days of my semester.
Greatest challenge: I think my greatest challenge was definitely not being able to speak the language very well. Czech people are not usually outwardly warm or friendly. There is no cultural expectation that compels people to be nice like we have in the US. As a foreigner, the seemingly unfriendly Czech disposition was quite intimidating and made me extra self conscious about my less than sub-par Czech. Everyday I had to be prepared to make a fool of myself. It turned out to be a great lesson in confidence that I found to be very helpful throughout the semester. My Czech still isn't great, but at least I can now properly inform you of that fact in Czech.
What you know now that you didn't know before: I knew nothing about the Czech Republic before I went for my semester abroad. Everything I learned, from the language, to the customs and the history that are a part of Czech culture and society, was new to me. I learned that I must always take my shoes off when entering the home of a Czech person, that one must be prepared to immediately offer one's seat to an elderly person on the tram, and that Czech society lacks a culture of charity and giving. I learned about the first Czechoslovak Republic, Czech Cubism, the Sudetenland expulsion, the underground movement, and socialism with a human face. In addition I ended up learning a great deal about myself and I picked up some useful life skills along the way.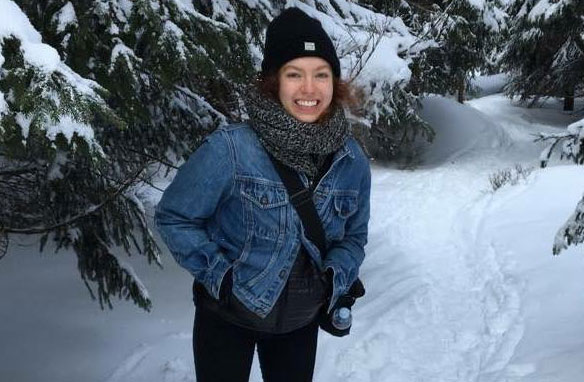 Fact about (country) that you think people would be surprised to learn: So few Americans know anything about the Czech Republic, let alone where to find it on a map. However, one common misconception about the Czech Republic is that it is part of Eastern Europe when it is actually a Central European nation. In fact, Czechs consider themselves to be more Western European than Eastern European. Furthermore, the Czech Republic is known as the most Germanic of the Slavic states.