Profile: Sarah Horn '16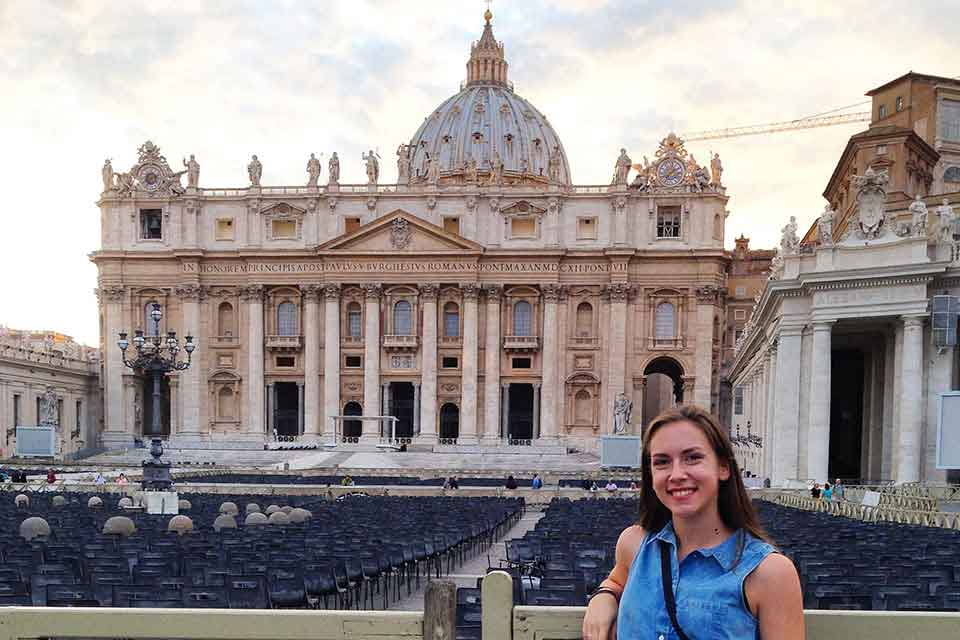 Majors: Art History and Economics double major
Year Abroad and Program: Fall 2014, Temple University Rome
Reason you chose this program: I chose Temple's program because I wanted to be in Rome and the art history classes focused on experiential learning. The program was comprehensive and established and I felt comfortable going with an American university.
Why did you choose to study abroad when you did: I don't know why so many people study abroad in the spring! Fall in Italy was beautiful – it was 80 degrees and sunny until October. When I left, it was still in the 60s. Also, coming back to Brandeis for the spring semester made sense because I could jump right back into academic life and so many fun things happen like Springfest and Festival of the Arts!
Favorite Class: My favorite class abroad was Art and Culture of Classical Rome. My professor was a quirky Belgian archaeologist with a photographic memory and a no-tolerance policy towards bathroom breaks. He ran us around Rome and across the country to visit important archaeological sites and famous works of art and architecture so we could recreate the culture of Republican and Imperial Rome. The class was challenging but I learned so much. I was also really fortunate to be placed in an internship at a contemporary art gallery in Rome for the semester. I worked with the two owners on a lot of research and PR projects and really enjoyed my time there because I was able to integrate better into Italian society.
Housing Situation: I lived in a single bedroom in an apartment with 4 other people on my program. We had a furnished kitchen and two bathrooms.
Best Memory: My favorite memory of Italy is one lunch during a class trip to Naples. We went to a buffalo farm and bought a huge amount of mozzarella, warm fresh bread and hard salami and ate open-faced sandwiches overlooking the bay of Naples. Can't beat Italian ingredients and the Italian coastline!
Greatest Challenge: Grocery shopping is hard when you don't know that much of the language! I spent hours staring at the cheese counter trying to decipher what types I could use to make mac and cheese when I was craving American food. A friend of mine tried to purchase a turkey for thanksgiving and ended up with a huge amount of deli meat instead.
What you know now that you didn't know before: The best place to get gelato in Rome is called Giolitti and its right near the Pantheon. Don't let anyone tell you otherwise. On a more serious note, my experience was less about what I learned and more about what I got to see. I studied the Sistine Chapel, the School of Athens, the Laocoön, Donatello's David, Michelangelo's David, the Roman Forum, the Colosseum, etc. Italy is a treasure trove of important works of art and the only way to learn all you can about them is to see them in person!
Fact about Italy that you think people would be surprised to learn: Most Italians don't really eat cannoli! It's a Sicilian dessert, so they aren't good on the mainland unless you go to a Sicilian bakery. Gelato and donuts are more common in Rome! Also, Italians only drink cappuccino before 10 am. Anytime after that they drink espresso.