Profile: Wenli Bao '18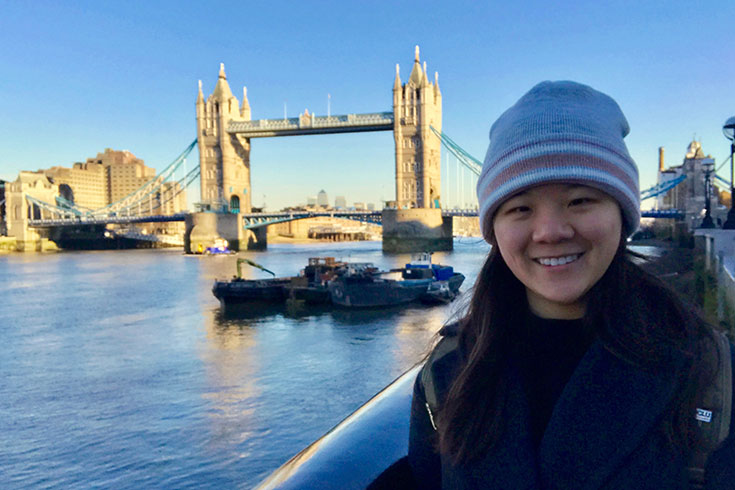 Major/minor: Business and Psychology major, Economics minor
Study abroad program: IFSA-Butler/ University College London (Spring 2017)
Reason you chose this program: I wanted to go to a metropolitan city in Europe and London immediately came to mind. It had been my dream to visit UK and the idea of living in London for six months was too attractive for me to say no to. There are many prestigious universities in London, and I chose UCL among them because it provides many interesting classes in both majors I currently study at Brandeis. Besides, the UCL program gave me sufficient chances to sit side by side with local students and experience the UK education system.
Favorite class: UCL School of Management course: Understanding Management
Housing situation: I lived in the UCL student housing located ten minutes away from the King's Cross, which is a major national train station in London. I shared a flat with five other students some of which are local UCL students while others are study abroad students. The housing situation was way better than I expected. We had a shared kitchen in the flat and each of us had a single room with en suite bathroom.
Best memory: I was never bored in London. There were always different places to go, different restaurants to try, and different activities to do. Besides, the best part of my studying abroad experience is that I made lifetime friends. We explored the city together, went to class together, and traveled around Europe together. We were like a little family in London. 
Greatest challenge: The education system in UK is very different from what it is in the US. There are no day to day assignments and for some classes there is only one final exam. It's important and sometimes difficult to make my own study plan and follow it. 
What you know now that you didn't know before: When I was in London, the world was at my doorstep! It's so convenient to travel to other European cities from London and the flight tickets could be very cheap sometimes. Definitely don't miss the chance to explore other part of Europe!
Fact about the United Kingdom that you think people would be surprised to learn: You will be amazed by how many different kinds of biscuits there are in the UK and how cheap they are! My favorite ones are coconut ring biscuits from Waitrose and digestive biscuits from Sainsbury's.