Benjamin A. Gilman International Scholarship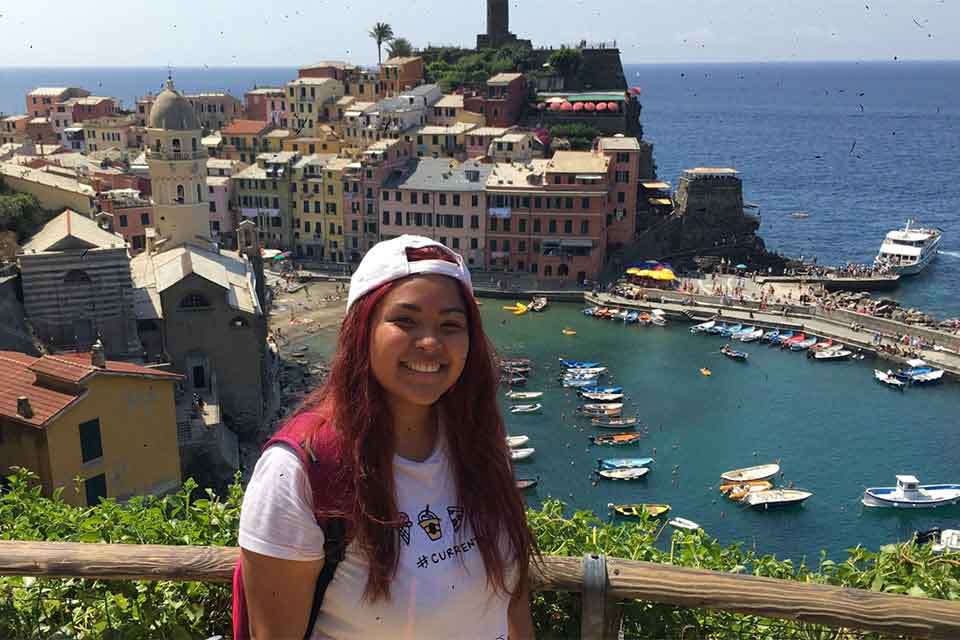 The Benjamin A. Gilman International Scholarship, awards scholarships of up to $5,000 (and an additional $3,000 for critical languages). This amount can really help finance an experience abroad. With commitment and preparation, Brandeis students tend to do well in the application process as evident by the extensive list of recipients below.
This application is more involved (you can't finish it the night before!) and students need to meet with Alisha Cardwell, Study Abroad Advisor, for help with completing their applications. Visit Gilman's website for eligibility, prize amounts, to create an account, and more information. The scholarship is available for Pell Grant Eligible students who are studying abroad for credit in the fall, spring, or summer terms.
Locations of Past Recent Recipients
Spring 2018 - Chile, Japan, the Netherlands, Singapore, Spain, Switzerland

Fall 2017 - Italy, Russia, South Africa, Spain

Summer 2017 - China, Italy, South Africa (Zoila Coc-Chang '18)

Spring 2017 - Denmark, Dominican Republic, Italy, Japan, the Netherlands, United Kingdom

Fall 2016 - China, Japan

Spring 2016 - Argentina, Australia, China, Denmark, India, Japan, South Korea (Yini Rong '17)

Fall 2015 - India, United Kingdom

Spring 2015 - Australia, China, Denmark, Japan, the Netherlands

Summer 2014 - Bhutan, Vietnam, China (Katie Lawrence '16)

Alumni Recipients - Nadine Channaoui '10
Student Experience
Gilman Scholar Ashley Piccirrillo-Horan '17 shares her experience planning for study abroad financially

"Everything I knew about foreign landscapes and languages had come from National Geographic magazines and grilling my Spanish teachers about their home countries, which were from Cuba and Spain, up until I graduated high school. It was safe to say I was growing a little stir crazy in my beautiful, yet small rural town in Connecticut, and was itching for new experiences in college. At Brandeis I delved deeper into learning Spanish, and was inspired to improve my communication skills. Financially, I knew traveling was expensive, and not something my family could afford. For this reason I initially thought that I would not be able to go abroad, since I thought my financial aid would change, and that I would lose out on not being able to work for a semester. After talking with financial aid, I discovered that my aid still did run over for my time abroad, and that there were options out there for me to help fund my dreams. It was then I was informed about the Gilman Scholarship.
I submitted my application for both the IFSA Butler Mendoza, Argentina Universities program and the Gilman scholarship, and luckily enough heard happy news back from both. I was going abroad!!! As a Psychology and HSSP double major, I could even count classes offered in Argentina for credit towards my majors, and as an aspiring social worker, I could work on polishing my Spanish skills to work with patients of more diverse backgrounds. Most importantly, I now had the money to pay for my plane tickets and and other travel expenses to make going to Argentina a reality!  During my 4.5 months in Mendoza, I met amazing friends from around the world, loved living with my host mom, went on runs with a beautiful view of the Andes mountains in the park a few blocks down from my house, had opportunities to hop on a cheap bus to go hike in nearby mountains on the weekends, studied in all Spanish (and passed all my classes!) and learned more about myself and the world than I could have imagined. For that I am beyond grateful for everyone at Brandeis who supported me in making this decision, and especially grateful for Gilman for making it financially possible to have this life-changing experience."