Tickets
Free and open to the public!
Messiah Sing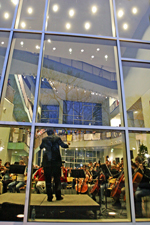 Tuesday, December 10, 4:00 pm
Shapiro Campus Center Atrium
Handel's Messiah
A Community Concert
Join the Brandeis community for our annual campus sing-along of highlights from George Frideric Handel's magnificent oratorio MESSIAH. It is led by the Brandeis-Wellesley Orchestra and the Brandeis University Chorus with soloists Nancy Armstrong, Jason McStoots, and Mary Gerbi. Scores will be available for anyone who would like to join in.