Jennifer Reed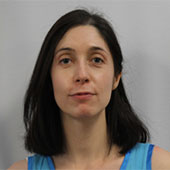 Florence Levy Kay Fellow in Eighteenth Century Studies
Research Interests
Eighteenth-century literature and culture, digital humanities, women in comedy.
Selected Publications
"Sites of Terror and Affective Geographies on Thomas Thistlewood's Breadnut Island Pen." Caribbeana: The Journal of the Early Caribbean Society, 1:1 (January 2016), 34-62.
"Fooling Around: Female Stand-Ups and Sexual Joking." Journal of Popular Culture, 48:4 (August 2015), 703-714.
Accepted: "Making it Matter." In "Making Things and Drawing Boundaries," part of the "Debates in the Digital Humanities" series. Ed. Matthew Gold and Lauren Klein, University of Minnesota Press.
Accepted: "Performances of Suffering and the Stagecraft of Sympathy." In "The Eighteenth Centuries: An Interdisciplinary Investigation." Ed. Cynthia Wall and David Gies, University Press of Virginia.
Selected Courses Taught
ENG 115b: Fictions of Liberty: Europe in a Revolutionary Age