SYMPOSIUM FAQ
Am I eligible?
Any undergraduate Brandeis student is encouraged to apply to present. At this time, group projects may be submitted for either the poster session or the panel sessions.  Whole classes are also encourged to apply.
What are the benefis of participating in the symposium?
This is a great opportunity for undergraduate students to:
* Gain experience in presenting your work in a formal setting
* Receive feedback from faculty and peers
* Share ideas and learn from other students
* Enhance your resume
How do I apply for (EL)2 2010?
More information is coming soon.  For now, refer to the application process information from last year.
I want to participate in the Poster Session.  What should my poster look like?
See our (EL)2 Poster Presentation Tips powerpoint for poster guidelines, tips and samples.
EL2:
Experiential Learning, Engaged Learners
A Brandeis Symposium Spotlighting Undergraduate Students' Exploration, Discovery and Innovation


On March 26, 2009, Brandeis hosted an interdisciplinary symposium around the topic of experiential learning. Our goal was to bring together students from all majors and disciplines to share their work with the entire Brandeis community in order to highlight students who created particularly engaging and experiential coursework. Our expectations were exceeded by students, faculty staff and all who participated. With over 150 people in attendence at 5 seperate events, more than 50 students presented outstanding posters and panel topics and engaged with reflective and thoughtful audiences. We are proud of the work put in by all and have already begun planning next year's (EL)2 symposium on March 18th, 2010.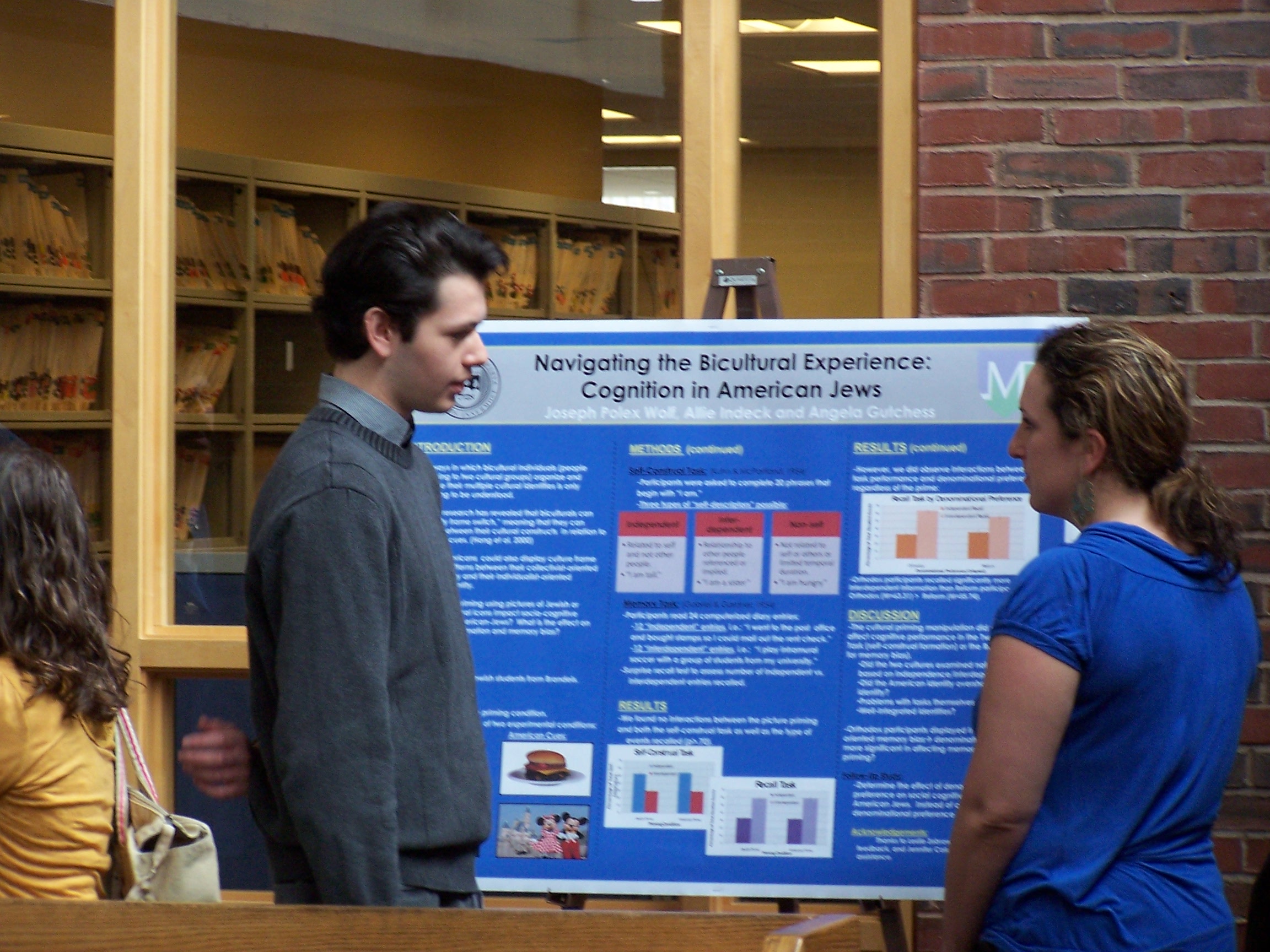 See the complete Symposium program  or the overview of the schedule below:
2:00-3:00PM
Plenary Session
Opening remarks by President Jehuda Reinharz
Panel session led by Dean Adam Jaffe:  Experiential Learning at Brandeis
INTERNATIONAL LOUNGE, USDAN

3:00-4:00PM
Poster Session
USDAN: LOBBY, HIATT CAREER CENTER, STUDENT FINANCIAL AND ACADEMIC SERVICES

4:00-5:00PM
Panel Sessions
Social Justice, Activism, and Community
Chair: David Cunningham, Sociology
INTERNATIONAL LOUNGE, USDAN
Investigation and Discovery
Chair: Angela Gutchess, Psychology
RAPAPORTE TREASURE HALL 
5:00-6:00PM 
Panel Sessions 
Global and Cross-Cultural Exploration 
Chair: Daniel Terris, Office of Global Affairs 
INTERNATIONAL LOUNGE, USDAN

Innovation, Enterprise, and Social Entrepreneurship
Chair: Detlev Suderow, International Business School
RAPAPORTE TREASURE HALL

6:00-6:45
Reception Open to All
INTERNATIONAL LOUNGE, USDAN
Sponsored By: Office of the Dean of Arts and Sciences :: Hiatt Career Center :: Academic Services :: Department of Community Services