For More Information
To learn more about our PhD, Master's, and post-baccalaureate programs, please visit our Graduate Programs section.
Helpful Links


At a Glance
GSAS offers the exciting, multifaceted, dynamic, interdisciplinary education that you received as a Brandeis undergrad. Generous scholarships are available for most Master's programs, and PhD programs offer full funding plus stipends.
Alumni Scholarship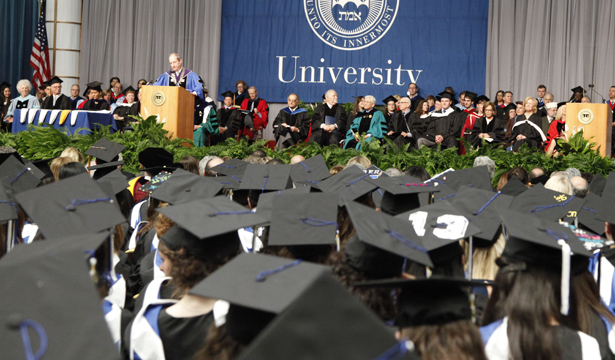 Are you a Brandeis alumnus? The Graduate School of Arts and Sciences would like to help you fulfill your academic and career aspirations through graduate education. We are proud to offer up to a $10,500 scholarship* for Brandeis undergraduate alumni who are admitted into most full-time GSAS master's programs. To be considered, please follow the instructions below. This scholarship may be in addition to any need-based aid (based on the FAFSA or the International Student Financial Aid Application) for which the student may be eligible.
Brandeis University's Graduate School of Arts and Sciences provides the same top-quality education that you received as an undergraduate. You are a proud alumnus with solid academic achievement, community involvement, and a commitment to social justice. We hope that you will return to Brandeis to continue your education.
Is my program of interest eligible?
Many full-time master's programs in GSAS are eligible for this alumni scholarship. Certain programs that normally offer generous scholarships (including the Hornstein programs, Genetic Counseling, Theater, and any programs joint with the Heller School) are not eligible for the alumni scholarship. Please note, this scholarship is only for GSAS programs (not Heller, Brandeis International Business School, or Rabb Graduate Professional Studies).
For questions, and to see if your program of interest qualifies for the alumni scholarship, please contact Barbie Papalios in GSAS.
To be eligible for this alumni scholarship, students must maintain a minimum of two semesters in residency in a GSAS program.
*The maximum limit for the Master of Arts in Teaching program is $7,650; the maximum limit for the M.S. in Biotechnology is $8,660. Please note that the five-year bachelor's/master's program in Biotechnology does not qualify for the alumni scholarship due to the already reduced tuition.
Please note that the Alumni Scholarship may not available in combination with another Brandeis award (i.e. service-based award, merit award, etc.). 
Four-year combined bachelor's/master's students are not eligible for the GSAS alumni scholarship as financial assistance is managed through the undergraduate financial aid office.
How to Apply?
To be considered for the alumni scholarship, please email Barbie Papalios (bpapalios@brandeis.edu) upon submission of your online application. This will ensure that your award letter will appropriately reflect this scholarship if you are admitted to the GSAS.
Apply to GSAS for Free
Current Brandeis students and alumni receive an application fee waiver when applying for a graduate program in the Graduate School of Arts and Sciences via the online application. This should occur automatically in the online application.