Undergraduate Departmental Representatives (UDRs)
The Undergraduate Departmental Representatives serve as a resource and representative for fellow majors and minors and potential majors and minors, and brings student concerns and/or ideas to the program faculty. They also provide feedback to the program chair, undergraduate advising head, and faculty regarding scheduling problems, course offerings, etc. and help organize events for majors, minors, and other interested students.
Casey is a senior majoring in History and minoring in Politics. He was a lifelong resident of Orange County, California before coming to Brandeis. Casey developed his interest in history while in elementary school through watching documentaries on PBS and old books in the classroom. His particular interests are in the history of modern Europe (especially Germany) as well as Korea and Japan. Casey's favorite books on history include Albion's Seed by Brandeis's very own David Hackett Fischer as well as James Sheehan's Where Have All the Soldiers Gone. In the future, Casey hopes to do graduate work in history and look into becoming a professional historian.
Casey's hobbies including watching classic films and anime, taking walks, and trying good food. Please feel free to contact him with questions or suggestions about the History major.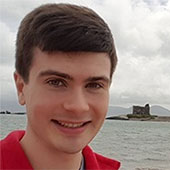 Ryan McCarthy
Class of 2018
Ryan is a senior pursuing a major in History and a minor in Economics. He is a Bay State local, hailing from Natick, Massachusetts. Ryan has had a passion for history for as long as he can remember, whether it be watching the History Channel as a kid, or visiting historical landmarks in Boston. He has a particular interest in American History, and hopes to be a history teacher at some point in his career. Ryan's favorite books on history include Why the West Rules—For Now by Ian Morris, and Jeff Shaara's novel A Blaze of Glory on the Western Theater of the American Civil War.
In his spare time, Ryan enjoys traveling and sight-seeing, skiing, video and board games, and watching the NFL's most American-History-themed team, the New England Patriots. Feel free to contact Ryan with any questions you have about History at Brandeis!