Application Information
Summer 2015 JBS Programs
Applications open on February 13, 2015. 

Application deadline is March 16, 2015.
Stay Connected
News
Students present at international environmental science summit
Students' research addresses air quality in nail salons

Nail salon exposure study published in journal of Immigrant and Minority Health
Environmental Health and Justice Program shapes students' career paths
Check out one of the mobile apps created by JBS students
Former JBS student launches new site!
JBS class study reveals poor air quality in Boston nail salons
A Night Out with Toxic Free Nails: JBS Environmental Health and Justice Presentations!
JBS Students present their study at the International Conference on Environmental Science and Technology!
Meda Kisivuli's Blog on Healthy Boston
Nail Study on Her Campus Brandeis
Hanna Wellish '12, a short video about the students' work with Worcester Roots.
Philip Lu '11 writes about his experience in The Justice.
2015 Summer JBS Programs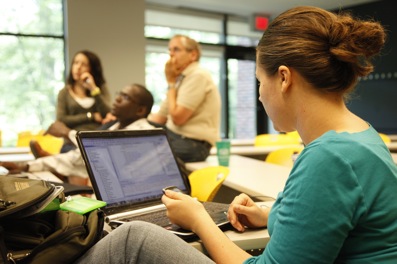 The following Justice Brandeis Semester (JBS) Programs have been approved for Summer 2015! 
An overview of each program, along with their course descriptions are available on each program page.

Bio-Inspired Design
Professor Maria Miara
Brand Marketing and Communications
Professor Grace Zimmerman
Communication and The Business of Show Business (New!)
Professors Jesse Hinson, Alex Jacobs, and Robert Walsh
Connect to Change: Social Media for Social Movements
Professors Timothy Hickey and Daniel Kryder
Food, Lifestyle and Health
Professors Elaine Lai and Lindsay Rosenfeld
Health, Law and Justice
Professors Sarah Curi and Alice Noble
Storytelling as Social Practice
Professor David Sherman
Voice, Web and Mobile Applications
Professors Timothy Hickey and Marie Meteer
---
Please note:
Course syllabi will be posted by the end of January 2015.
Student applications will open February 13, 2015.