Class of 1978
I recently returned to work full time in the health-care field at the Brookhaven Center for Wound Care and Hyperbaric Medicine. My husband, Tom, who runs a small publicly traded pharmaceutical company, rang the opening bell at the NASDAQ MarketSite in New York City's Times Square on July 23, 2014. It was very exciting, especially seeing his face projected about 60 feet tall on the outside of the building. Our older son, Elliot, graduated from William & Mary and lives in Richmond, Va., where he works on his music and does freelance barbering to pay the rent. Younger son Jacob is a high-school senior and is looking at colleges with motor-sports engineering programs.

Leanne Berge is senior vice president for strategic business affairs at Commonwealth Care Alliance, a health-care organization serving people on Medicaid and Medicare in Massachusetts. Leanne and her husband, Michael Jackson, MA'83, have two children: Kayla just graduated from Carleton College, and Sam is a 2011 Yale graduate. Marc Brettler, MA'78, PhD'86, the Dora Golding Professor of Biblical Studies at Brandeis, received an Independent Publisher Book Award for his contributions to "Three Testaments: Torah, Gospel and Quran," a work that explores the connections among Judaism, Christianity and Islam. Deborah Cohen lives in Maryland with her husband and 14-year-old son. She works as a writer and consultant specializing in early childhood, family and child welfare, and social justice issues. She has been doing the bulk of her work for the Annie E. Casey Foundation and other nonprofits for the past two decades. Certified as a personal trainer, Deborah is an avid runner, competing in several races a year. Mark Cohen and Roberta Weinstein-Cohen '79, P'09, P'17, live in West Hempstead, N.Y. Mark maintains a law practice, and Roberta runs an adult day-care program for the Jewish Association Serving the Aged. Their oldest child, Hanna Cohen Winkler '09, who lives in Givat Shmuel, Israel, is a recruiter in the high-tech industry. Their middle child, Yaakov, was married last summer; lives in Kew Gardens Hills, N.Y.; and sells insurance for MassMutual. Their youngest, Rivka '17, is a sophomore at Brandeis, where she is a leader with bVIEW (Brandeis Visions for Israel in an Evolving World) and BOO (Brandeis Orthodox Organization). Mark and Roberta are members of the Brandeis Parents Advisory Council, and generous supporters of BOO and the Jewish Learning Initiative on Campus program at Brandeis. Leonard Davidson received the Community Service Award from the Synagogue Council of Massachusetts for his leadership in strengthening Greater Boston's Jewish community. David Ferris retired from the Harvard Law School Library as curator of rare books and manuscripts, and may pursue a certificate in translation studies at the University of Massachusetts, Boston. His first grandchild, John Michael, was born in 2013. His son works for Credit Suisse, and his daughter for Goldman Sachs. David and his husband, a member of the English faculty at UMass Boston, plan to make their annual January trip to Barcelona and Girona in Spain. Beth Flanz­baum is a behavioral health-care manager at Fallon Total Care in Worcester, Mass., where she creates "wrap-around" services for adults challenged by mental-health and substance-abuse issues. She is also an adjunct faculty member at the Boston University School of Social Work. She and her partner, Joel Bitton, recently celebrated three years in their home in Framingham. Artist Philip Gerstein has been exhibiting in New York City; Province­town, Mass.; and the Boston area. Rabbi Elyse Goldstein, P'11, retired as rabbinic director of the institution she created 20 years ago — Kolel: The Adult Centre for Liberal Jewish Learning — and went back to being a congregational rabbi. She established a new Reform synagogue, City Shul (www.cityshul.com), in downtown Toronto. Additionally, she serves as volunteer rabbi of a small congregation of converts in Guatemala, whom she visits yearly. Diane Botwick Greenlee is a lawyer at Bryan Cave in Washington, D.C., closing low-income housing tax-credit transactions. She reconnected with many Brandeis classmates at the 35th Reunion and on Facebook. Her husband, Allen, is a primary-care doctor in private practice. Daughters Ariel, Emily and Dana are all grown up, but, as Diane says, your children never stop being your No. 1 priority. Ariel is married, a first-grade teacher and the mother of Diane's first grandchild, Charlie (Brandeis 2035?). Emily just received a master's degree in environmental management and moved to San Francisco. Dana was recently married and works for the Environmental Protection Agency in New York. Laura Kaufman was appointed clinical assistant professor at the Boston University Henry M. Goldman School of Dental Medicine and Boston University School of Medicine after completing a two-year fellowship in geriatrics at Boston Medical Center. Her fellowship work was highlighted in an article in The New York Times headlined "Needed: Health Professionals to Treat the Aging." Brian Lash, chair and founder of Target Logistics, was profiled in the Boston Business Journal. In 2013, Brian sold his 465-employee company, which he founded in his Brandeis residence hall, to Algeco Scotsman for $625 million. David Lubin serves as general counsel for a medical practice in Gloucester County, N.J., where he manages issues related to human resources, contract review and governmental compliance. From 2012-13, David's family hosted a high-school exchange student from China. After 25 productive and enjoyable years at the University of Washington, Larry Robinson has become director of physical medicine and rehabilitation at the University of Toronto, and program chief for rehabilitation services at Sunnybrook Medical Center. He is also the inaugural holder of the John and Sally Eaton Chair in Rehabilitation Sciences. He is adapting to life in Canada and trying to figure out in which football league the Maple Leafs play. Movie production designer Steve Saklad writes, "The fates have been fickle this year, with the premieres of two feature films I designed. 'Labor Day,' directed by the brilliant Jason Reitman, opened in January 2014 and disappeared from theaters within two weeks. By contrast, '22 Jump Street' opened to raves mid-June and had taken in nearly $300 million worldwide by early August." Judi Shostack is the new president of the Brandeis Alumni Club of Toronto. Eric Stern leads the real-estate practice at Morgan Lewis and was named a Most Influential Lawyer in the Philadelphia Business Journal's 2014 real-estate awards. Eric's wife, Jacquie, is co-president of a women's collective giving organization. Their older son graduated from Columbia in 2014; their younger son is a junior at Vanderbilt; and their daughter is a high-school senior. The family has moved into Center City in Philadelphia and enjoys summer weekends in Margate, N.J. Chaye Zuckerman Shapot is executive director of sales and marketing at 22 Graphics in New York City, selling marketing merchandise, promotional products and branded items. David Schneiderman married Miriam Khorramian in April 2014, despite the best efforts of his classmates to scare her away when they met her at the 35th Reunion. As part of this year of transitions, he sold his house of 30 years and moved to Brentwood, Calif., to accommodate their family of four children. David continues to referee youth and adult soccer games. On a sad note, his beloved mom, Sylvia, passed away in June at age 91. Alan Spatrick was shocked to realize that his classmates (except Judy Benstein) are 57 or 58 years old. He has been married for 22 years to Kaj Wilson, who did not attend Brandeis but has heard the "brownies" story countless times from Alan and his college friends.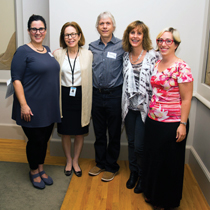 PACIFIC ARTS: Seattle Art Museum director Kimerly Rorschach '78 (second from left) — with event organizers Pamela Grieff '85, Eli Patashnik '83, Deborah Davis Patashnik '82 and Rachel Rosenman '00 — led a tour of the museum's "Modernism in the Pacific Northwest" exhibition for nearly 50 alumni, parents and friends.
Submit a Class Note