Class of 2001
Shira Beckerman married Ramon Turner on June 21, 2014, at the Center for Architecture in Philadelphia. The couple met two years ago in Philly, where the bride is a major-gifts officer at the American Red Cross and the groom is an architect. Alumni at the wedding included Adele Traub '99, Michael Weinstein-Reiman '04, Dev Bondarin, Joanna Nadler, Michael Rose and Seth Michaels. Lyonel Jean-Pierre Jr. and Betsy Loren Plumb had a son, Lyonel "Lyon" III, on Nov. 6, 2013. Amy Lurie Schulman and her husband, Seth, welcomed their first child, Emerson Rebecca, on Dec. 26, 2013. They moved from San Francisco to Framingham, Mass., in summer 2013 and are enjoying suburban life on the East Coast. Rabbi Evan Schultz and Jenny Goldstein welcomed a second baby boy, Elie Hudson, in August 2013. Rachel Davis and her husband, Christopher Stockton, had a baby girl, Lydia Rebecca, on March 25, 2014. Galen Brown married Christine Chung on April 12, 2014. Sara Kahn Troster and David Freidenreich '99 had a son, Jacob Meir, on Feb. 5, 2014. He joins big sister Naomi. Sarah (Jagolinzer) Kabat and Andrew Kabat welcomed daughter Julia Ross on Dec. 22, 2013. On May 15, 2014, Elizabeth Brosgol and husband Dan '00 welcomed baby No. 5, Davi Ketziah, who is adored by big brothers James (11) and Oren (8), and big sisters Asalie (5) and Noa (2). Allison Cohen Sylvin and husband Erik '99 welcomed Lucas Eli on Jan. 3, 2014. Allison writes, "He is an absolute joy, and we are enjoying every minute." The family lives in Philadelphia, where Erik is finishing up his cardiothoracic surgery fellowship at UPenn. Allison works in institutional fixed-income sales at Janney Montgomery Scott. Through Florida State University's One Book/One Campus program, all first-year students entering in fall 2014 read "This Is Our Story," a critically acclaimed novel by Wendi Adelson about two young women from different countries who become victims of human trafficking in the United States. Wendi is a professor at the Florida State College of Law and director of the Medical-Legal Partnership at the school's Public Interest Law Center. Leanna Moran was named executive director at NaviCare, which in partnership with MassHealth and Medicare offers comprehensive health and social services for adults age 65 and up. On Aug. 17, 2014, Rabbi Daniel Victor was installed for his second term as rabbi at Congregation Rodeph Sholom in Bridgeport, Conn. Chad Yablonsky joined Wilentz, Goldman & Spitzer as a new associate. He graduated from Seton Hall School of Law. Adam Smoler and his wife, Libby, had a baby boy, Ari Eli, on Feb. 19, 2014, in Chicago. Joanna Nadler married Joel Traylor on June 7, 2014, in Big Bear, Calif. Alumni in attendance included Michael Rose, Shira (Beckerman) Turner and Kate Forrestall.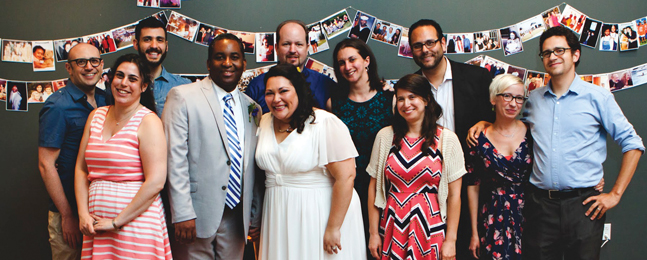 PHILADELPHIA STORY: Shira Beckerman '01 married Ramon Turner at Philly's Center for Architecture, cheered by a joyful group of alumni. From left: Aaron Schwartzbord, Adele Traub '99, Michael Weinstein-Reiman '04, Ramon, Shira, John Herin, Dev Bondarin '01, Joanna Nadler '01, Michael Rose '01, Michelle Campbell and Seth Michaels '01.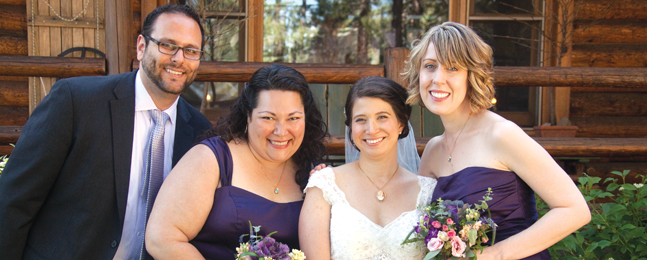 CALIFORNIA DREAMIN': Joanna Nadler '01, who married Joel Traylor in Big Bear, Calif., celebrates with Michael Rose, Shira (Beckerman) Turner and Kate Forrestall, all '01.
Submit a Class Note