Class of 2004
It has been a busy summer and fall, with lots of opportunities for catching up with Brandeis classmates. It was great to see so many of you at our 10th Reunion, as well as during my trips to Pittsburgh and Los Angeles. If you find yourself in Chicago, feel free to get in touch.

Adam Herman was named director of the Kelley School of Business Living Learning Center, a program for first-year business students at Indiana University's business school. Adam is continuing his doctoral work in higher-education administration and strategic management at Indiana. Lauren Kanter Applebaum and husband Aaron welcomed a son, Samuel Kaden, on Aug. 19, 2013. Eszter (Lengyel) Neuman and her husband, Ariel, had a baby boy, Zev Loren, on Aug. 13, 2013, in Los Angeles. In his first few days, Zev met two Brandeis alumnae, Michelle Poliak-Tunis and Anna Natsume. Michelle Rubin joined USI Consulting Group as a senior actuarial consultant in its defined benefit practice. Josh Centor was named director of athletics, physical education and recreation at Carnegie Mellon University. After spending three years working at the NCAA, he joined the school's athletic department in 2008. Josh and his wife, Jaye-Lacey (Pearlman), the director of executive events at Carnegie Mellon, have a 3-year-old son, Gabriel. Meredith Bodgas and her husband of six years, Paul DiPilato, welcomed their first child, Jeremy Harrison Bodgas-DiPilato, on May 12, 2014. So far, he is one of the few people in the world who enjoy listening to his mom sing. Meredith is editor of WomansDay.com, the online companion to Woman's Day magazine. Bezalel Stern joined Kelley Drye & Warren, where he is an attorney in the litigation department. Sheila Kaufman married Sanjay Nand in April 2014. The Hindu-Jewish wedding weekend was attended by Miriam Hurwitz, Elizabeth Carlson, Deborah (Berkman) Thomashow and Lauren Kanter Applebaum. Sheila, a midwife, and Sanjay, a management consultant, live in Philadelphia. The couple honeymooned in Fiji, Sanjay's home country, in the fall. William Gynan IV married Alyson Decker on March 15, 2014, in Playacar, Mexico. Stephanie Knepper married Dr. Craig Basman on Sept. 21, 2014, in New York City. Debbi Finkelstein graduated from Lesley University with a master's in education and plans to teach high-school history. Rachel (Hartstein) Ezra and her husband, Mitchell, welcomed a daughter, Rosalie Pearl, on June 27, 2014. Matthew Konjoian works in membership and marketing at the American Public Power Association, a trade group of municipally owned electric utilities. He was recently engaged to his girlfriend of two years, Alexis Perlmutter. Matthew continues to be involved in Young Democrats activities in northern Virginia and completed the Cherry Blossom Ten-Mile Run for the second time during spring 2014.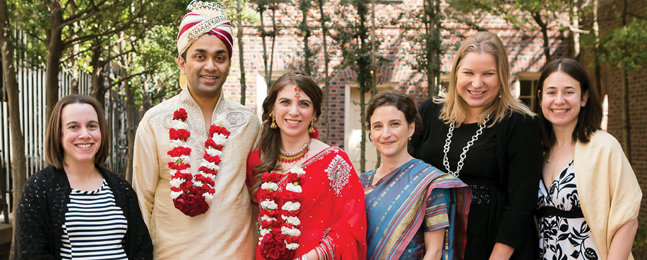 AVOWED FRIENDS: Four classmates attended the Sheila Kaufman '04-Sanjay Nand nuptials. From left: Deborah (Berkman) Thomashow '04, Sanjay, Sheila, Miriam Hurwitz '04, Elizabeth Carlson '04 and Lauren Kanter Applebaum '04.
Submit a Class Note