Class of 2005
10th Reunion
June 5-7, 2015

As usual, it was great to hear from everyone. Can you believe our 10-year Reunion is coming up in June? Graduation still feels like yesterday. I hope to see everyone there so we can catch up in person. 
A large group of Brandeis alumni saw Mira Abramsohn marry Glenn Prives '06 on Nov. 3, 2013, at Liberty State Park in New Jersey. Justin Drake '06; Andrew Katz '06, MA'07; Samantha (Brinn) Merel; Sarah (Black) Ostrum; and Benjamin Wolinsky '06 were in the wedding party. Other alumni in attendance included Judith (Lupatkin) Bernstein; Jason and Reasey (Ngoun) Colon; Greg Freedman '06; Aliza Gellman-Chomsky '06; Benjamin Gellman-Chomsky '08; Shanna (Nussbaum) Goldstein; Ityng Hsieh '04; Yusyin Hsin; Elissa (Glucksman) Hyne '06; Jason Hyne '06; Sarah (Passarelli) Katz '07; Hayley Levenson '06; Deborah Model '06; Elyse (Seener) Nagiel '06; Jennifer Pollack '06; Jenn Rubin '06; Melissa (Alter) Sussman '06, IBS MA'07; and Heather (Daugherty) Windman '06. Mira is the manager of individual giving at the Brooklyn Museum. Glenn is an attorney with McCarter & English in Newark, N.J. They reside in Hoboken. Sarah Black married Nicholas Ostrum on Dec. 14, 2013, in New Orleans. Mira Abramsohn served as a bridesmaid. The couple met while graduate students at Stony Brook University. They live in Chicago, where Sarah is completing her clinical psychology internship at Northwestern's Feinberg School of Medicine. Tobias Loss-Eaton married Morgan Kennedy on May 3, 2014, in the ballroom of the Park Hyatt Washington. They met at Harvard Law School. Tobias is an appellate and commercial litigation associate in the Washington office of Sidley Austin. He served as a law clerk to Judge Norman H. Stahl of the U.S. Court of Appeals for the First Circuit in Boston. Michelle Martin-Baron is an assistant professor of women's studies at Hobart and William Smith Colleges. She is a feminist performance-studies scholar specializing in feminist and queer theories, visual and material cultural studies, theater history and criticism, critical race studies, and performance theory. Laura Goldin and Kenneth Ames are engaged. A spring 2015 wedding is planned. The couple resides in Washington, D.C. Rabbi Dan Horwitz married Miriam Ganz on Oct. 27, 2013, at Birch Hill in Schodack, N.Y. The couple met in September 2012 at a summer-camp site in West Milford, N.J., when Miriam was the sign-language interpreter for a deaf participant at a weekend retreat led by Daniel. They recently moved from Washington, D.C., to Detroit, where Dan is serving as associate rabbi of Congregation Shir Tikvah and as the senior Jewish educator at Michigan State University Hillel. Natasha (Rabinovich) Buckler was named assistant city solicitor in Providence, R.I. She and her husband, Jeff Buckler, welcomed a son, Samuel Iosef, in 2013. Yoni Samlan and his wife, Noa, had their first child, Ilan Imre, on March 30, 2014. Edward Greenberg finished the third year of his internal-medicine residency at Case Western Reserve University. He is conducting cancer research and applying for fellowships in hematology-oncology. Hannah Taytslin was appointed director of individual giving at the Lyric Stage Company of Boston, the city's oldest professional theater. Alan Tannenwald joined Sierra-Cedar, one of the largest independent IT-services companies in North America, as associate general counsel. Alan was named a Rising Star in 2013 by Thomson Reuters Super Lawyers, a distinction awarded to 2.5 percent of New England lawyers under 40 years old. On March 10, 2014, Hayley (Ablon) Fontaine and her husband, Jason, welcomed a baby girl, Riley Caitlin. M. Caitlin Fisher-Reid is an assistant professor of biological sciences at Bridgewater (Mass.) State University. She is engaged to James Zuber; the wedding is planned for summer 2015. Tammy (Haendel) Mintz earned a doctorate in clinical and school psychology from the University of Virginia. She is doing a postdoctoral fellowship at the Kennedy Krieger Institute in Baltimore. Erica and Donnie Phillips, IBS MA'06, had their second baby girl, Leora Bess, on July 14, 2014. They are already thinking about her application for Brandeis' Class of 2032. After nearly eight years living and working in China, Zach Reff returned to Denver, his hometown, to become managing editor of employee newsletters and speechwriter at Children's Hospital Colorado. Tascha (Zadek) Fuchs and Craig Fuchs, MA'06, celebrated the first birthday of their daughter, Julia Madison. With five alumni aunts and uncles, an alumna grandmother and alumni parents, Julia is hoping one day to attend Brandeis. Alex Bakst married Heather Benton on July 18, 2014, after six years together. The ceremony took place in Berlin, Germany, and was followed by a lunch and a casual dinner reception. A recap and digital guestbook can be found at heatherandalex.bakst.de. After seven years in marketing and communications at Morgan Stanley, Beth Mandel now devotes her attention to her burgeoning photography business, BWPW Photography. Located in Durham, N.C., Beth's business specializes in family portraiture and events. She is enjoying her more creative day-to-day work life. Dan Cohen is busy experiencing life as a lawyer, newlywed (to Laura Brodin) and musician. His passion for performing at Chum's has translated to the NYC open-mic scene. Heather and Dan Schleifstein welcomed a son, Ethan Asher, on March 3, 2014. Ethan will soon be wearing the same Brandeis outfit Daddy wore as a baby. Arnon Shorr recently moved with his wife, Talia '06, and son Adir ('34?) to Los Angeles from Long Beach. After a successful run producing and directing a Web series for Jewbellish.com, Arnon is now directing a small feature film. In his spare time (ha!), he is trying to build a network of alumni in the film industry; look for Brandeis Alumni in Film and Television on Facebook. Sarah Kaplan was planning to be married to Jason Springer in November 2014. Sarah's startup company, B Positive National Blood Services, has received its FDA licensure and began shipping product to international clients. Rachel S. Schneider works as an advocate, author and educator in support of sensory processing disorder (SPD), a neurological condition that Rachel was diagnosed with in 2010. She authors a popular blog for SPD adults, Coming to My Senses (www.comingtosenses.blogspot.com), supports the SPD Foundation on projects and leads a support group for adults with the diagnosis. She lives in Queens with her husband and beloved "handler," Joshua Erich. Lindsay Pfeffer is an associate at Cohen Rabin Stine Schumann, a boutique matrimonial, family law and litigation firm in New York.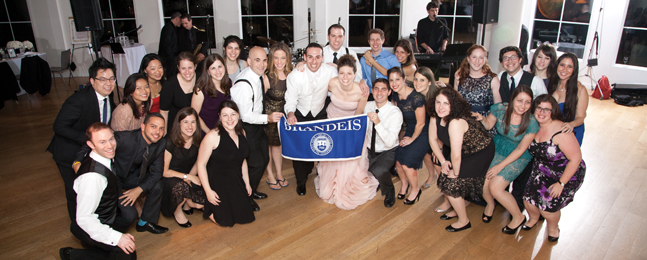 JERSEY SURE: Louis love was in the air when Mira Abramsohn '05 married Glenn Prives '06 in New Jersey's Liberty State Park. Front row, from left: Justin Drake '06, Jason Colon '05, Judith (Lupatkin) Bernstein '05, Sarah (Black) Ostrum '05, Jason Hyne '06, Elissa (Glucksman) Hyne '06, Deborah Model '06, Heather (Daugherty) Windman '06 and Jennifer C. Pollack '06. Back row: Yusyin Hsin '05; Reasey (Nguyen) Colon '05; Ityng Hsieh '04; Samantha (Brinn) Merel '05; Shanna (Nussbaum) Goldstein '05; Jenn Rubin '06; Andrew Katz '06, MA'07; Sarah (Passarelli) Katz '07; Glenn; Mira; Benjamin Wolinsky '06; Greg Freedman '06; Beth (Fisch) Freedman; Melissa (Alter) Sussman '06, IBS MA'07; Aliza Gelman-Chomsky '06; Benjamin Gelman-Chomsky '08; Hayley Levenson '06; and Elyse (Seener) Nagiel '06. 
Submit a Class Note