Class of 2009
Amanda DiSanto married Steven Pappas on July 4, 2014, at Tribeca Rooftop, in Manhattan. Amanda is a litigation associate at the Manhattan law firm Hodgson Russ. The couple lives in Brooklyn. Cameron Miller-Patterson graduated from Stony Brook University School of Medicine in May 2014. Cassie Seinuk received an MFA in creative writing for stage and screen from Lesley University. Her full-length play "From the Deep" won the Pestalozzi New Play Prize at the Firehouse Festival of the Arts, and her play "Leave a Message" was a finalist for a National 10-Minute Play award. Dan Boldyrev joined Building Engines, a provider of comprehensive Web and mobile property-management software for the commercial real-estate industry, as a client-support specialist. He had worked at the Massachusetts Rehabilitation Commission, where he managed and organized the inventory database. Benjamin Luxenberg, who served in the U.S. Marine Corps from 2009-13, is pursuing an MBA/MPP at Harvard Business School and the Harvard Kennedy School. Marina Ross is studying for a PhD in clinical psychology at the Long Island University-C.W. Post campus. Before returning to school, she spent three years as a research assistant working with schizophrenia patients at the Nathan Kline Institute for Psychiatric Research. James Collins and Mariah Rich '10 were married on May 25, 2014, at the Four Seasons in Boston. They met in fall 2006 — James' sophomore year, Mariah's freshman year — and have been together ever since. A total of 21 Brandeisians attended the wedding, and six were in the wedding party. Michelle Liberman, IBS MA'10, and Adam Eisenberg, IBS MA'10, were married on Aug. 10, 2014. Michelle is pursuing an MBA at MIT Sloan, and Adam is a research associate at Fidelity Investments. They live in Cambridge, Mass. Rebecca Sivitz married Sean Jackowitz on Feb. 15, 2014, in Seattle. They both work for large law firms in Boston, where they have lived since August 2013. Rebecca writes, "We love visiting Brandeis, and I'm trying to turn Sean into an honorary alumnus." Sierra Kagen moved to the Seattle area, where she bought a house in the suburbs. She is getting involved with the film/print/voice-over scene in Seattle, collaborating on a new commedia dell'arte troupe, and teaching/directing/performing with a local children's theater. Drew Sambol and Josh Mervis '08 were married on June 8, 2014. Roee Gilron married Tiffany Roberts '10 in a "double ceremony" — the first ceremony in Israel, where the bride and the groom live, and the second in Sonoma County, Calif., where the bride grew up. Roee was featured in a recent New York Times article about the successful launch of "Israel Story," the first long-form program of radio journalism in Israel. Segments translated into English are part of the weekly podcast of the online Jewish magazine Tablet.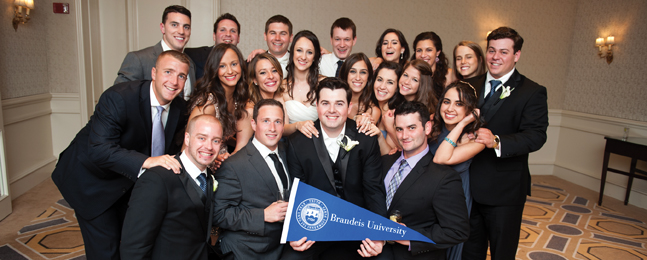 SEASONAL CEREMONIES: Nearly two dozen alumni attended as James Collins '09 married Mariah Rich '10 at the Four Seasons in Boston. Front row, from left: Eli Harrington '09, Kyle Ritchie '10, James and John O'Brion '10. Middle row: John Clarke '09, MA'10; Samantha Cornell '10; Stephanie Nullman '10; Mariah; Julie Rapp '10; Samantha Lenard '10; Nicole Starman '10; and Karishma Roopchand '10. Back row: Arthur Posch '10, Drew Brzozowski '10, Drake Livada '10, Alex Zenerovitz '10, Melissa Gorenkoff '10, Hillary Rosenzweig '10, Hanna Worchel '10 and Mike Alfego '09.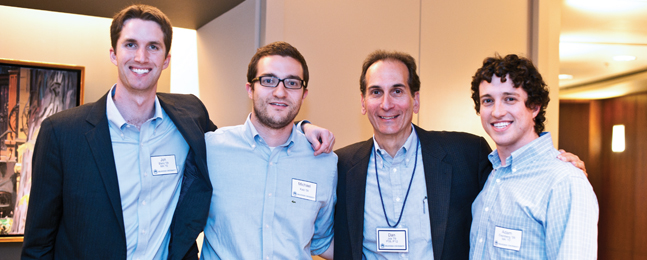 A GOOD INVESTMENT: Jon Blanc '09, MA'10; Michael Katz '09; Dan Jick '79, P'09, P'12; and Adam Eisenberg '09, MA'10, participated in a networking event for alumni working in the legal and financial fields, sponsored by the Alumni Club of Greater Boston's Lawyers Network. Jick, founder and CEO of HighVista Strategies and former chair of the Investment Committee of the Brandeis Board of Trustees, and Nicholas Warren, chief investment officer at Brandeis, led a discussion on investing opportunities and trends. Lawyers Network committee members Adam Samansky '00 and Stephanie Bruce '98 hosted the event at law firm Edwards Wildman.
Submit a Class Note