Class of 2012
Wow, it's ridiculous that we've been out of Brandeis for two years now! I really enjoy hearing about all the wonderful events going on in your lives; please keep sending in Class Notes. I just finished Teach for America in West Harlem and am pursuing a JD at Fordham Law School, in New York City.

Jacob Agi is engaged to Rebecca Abrams of Los Angeles. He is a third-year law student at the University of Southern California. Destiny Aquino became a first-time homeowner with her boyfriend in Palm Beach, Fla. They are excited to personalize their home, Brandeis memorabilia included. Destiny handles communications, day-to-day logistics and the showroom for Desiree Bates Home, the furniture and home décor company they launched this year. Destiny also runs her own events and communications company, Destined to Be Events. Over the past year, Jacob Chatinover has lived outside Seattle in an RV, toured Scandinavia with his brother, and traveled across the United States in an upside-down school bus as an environmental educator for the Teva Learning Alliance. Adam Cohen is a research assistant in the U.S. Role in the World Program at the Carnegie Endowment for International Peace in Washington, D.C. After a two-year stint in Massachusetts politics — managing the campaign of Mike Barrett, Waltham's state senator, then working as his legislative aide — Josh Basseches has begun a doctoral program at Northwestern University. He plans to study political sociology and social movements. Kelly Ethier graduated from Northeastern University with a master's degree in sports leadership. She completed the program online while working several jobs. She now works as a sports and special-risk client-service representative. Dafna Gamzeh manages group medical and state disability insurance for schools, law firms, and architecture and engineering firms at Singer Nelson Charlmers. She and her husband, Liron, live in suburban Bergen County, N.J. Kelsey Grab works as the residential program coordinator for Harvard's green program. She teaches incoming freshmen how to compost and loves feeling like a grown-up eco-rep. Gabby Katz is pursuing an MPP at the Heller School for Social Policy and Management. Lauren Laperriere, MA'13, works for the New England Revolution soccer team as a Rev Girl, one of a group of women responsible for the team's brand representation via nightlife appearances, charity events and game-day appearances. Lauren has minor roles in the Johnny Depp film "Black Mass" and the new untitled Woody Allen film. Aeisha Lima, MA'13, who earned a master's degree in global studies in May 2013, works for the Massachusetts Migrant Education Program. She was promoted within three months and serves as the service coordinator for the eastern region of Massachusetts. On June 22, 2014, Max Notis proposed to Rachel Miller '13. They both live and work in New York City. Deborah Paradise is a New York City Teaching Fellow and teaches living environment at the Leadership and Public Service High School in Manhattan. She is pursuing a master's in teaching at Pace University. Louis Polisson married Gabriella Feingold '14 on May 25, 2014, in Westbrook, Conn. At the end of June, they moved to Jerusalem for Louis' second year of rabbinical school at the Jewish Theological Seminary. Alex Schneider, a student at the George Washington University Law School, received a $50,000 scholarship after winning the university's first Innovation Task Force competition. Alex proposed an idea for computer energy conservation that the school has put into effect. Siddhi Krishna, MA'14, is pursuing a doctorate in pure mathematics at Boston College. Daniel Shimansky spent his first summer off from Penn Dental School working in and trekking through Nepal's Himalayan Mountains. Ari Tretin works for Jonathan Adler in production, development and operations. He also started a fashion and design agency, to create products for individuals and companies, and provide creative-design services of all types. John Wong still works in Malaysia and would love to have some visitors.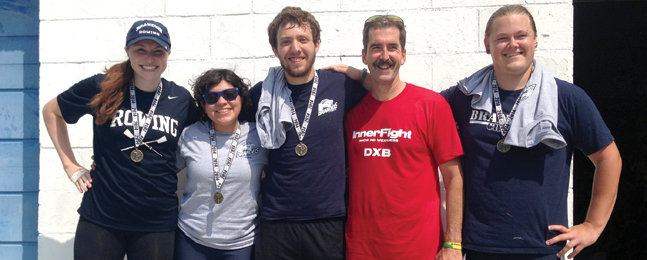 GRAND CREW: Alumni, parents and faculty joined members of the Brandeis crew teams at the annual Alumni Regatta. The winning team included Elise Sobotka '15; Sigrid Solis '15; Jeremy Asch '15, the novice coach; Bill Ennis, P'15; and Greg Ryan '12.
Submit a Class Note