A fresh taste of fall at Brandeis farmers market Nov. 2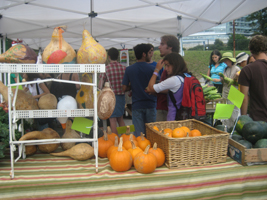 WALTHAM, Mass. – The student-run farmers market will return to campus on Sunday, Nov. 2 offering a variety of fresh produce, homemade jams and handmade crafts from local vendors. More than 400 Brandeis students and area residents came to the market's opening weekend in September.
The market is a product of Greening the Campus and Community, an environmental class Mariah Rich, Samantha Lenard and Nicole Starman took last semester. Seeing a need for an increased supply of fresh produce on campus, and inspired by Brandeis's continued determination to become a more sustainable community, they hope the farmer's market will enable students to make healthier choices and support local farmers and vendors.
"This is the very kind of project envisioned for this class- in which students used their learning, along with their imagination, creativity, personal commitment and hard work to create new connections between Brandeis and the Waltham community," said professor Laura Goldin, who teaches Greening the Campus and Community. Other students in the class have created community gardens with local residents and worked with children in the Waltham public schools to protect wetlands.
The market will feature local vendors and farms including Natick Community Organic Farm, Hanson Farm and Flats Mentor Farm. New vendors include a bakery and a jeweler. In addition, Brandeis dining services will provide fresh bread from the Brandeis bakery and donate half of the proceeds to future student environmental projects.
Please note that the farmers market is open to the public.
WHEN: Nov. 2, 12-3pm
WHERE: Gosman Center (Athletics) parking lot at Brandeis University, 415 South Street, Waltham, Mass.


Return to the BrandeisNOW homepage