Talking about a green revolution: Tom Friedman visits campus today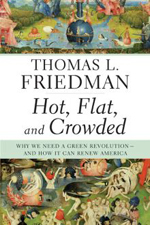 New York Times columnist Thomas Friedman '75, H'88, a three-time Pulitzer Prize winner, will visit campus on Thursday to speak about his new book "Hot, Flat and Crowded: Why We Need a Green Revolution – and How It Can Renew America." The event will begin at 3 p.m. in the Spingold Theater Center.
Copies of "Hot, Flat and Crowded" will go on sale in the Spingold lobby beginning at 2 p.m. Following his 3 p.m. talk, Mr. Friedman will sign copies of the book in the Dreitzer Gallery at Spingold.
Unclaimed tickets to his talk will be distributed on a first-come, first-served basis on Thursday beginning at 10 a.m. at the Spingold Theater Center ticket office. Please enter the ticket office through the outside staircase on the north side of the building. You will be required to show a Brandeis ID; only one ticket per individual.
SIMULCAST
Mr. Friedman's talk will be simulcast at 3 p.m. in Levin Ballroom at the Usdan Student Center. No tickets are required to attend the simulcast. Community members who are on campus and using a wired connection may watch the event live on IPTV. 


Return to the BrandeisNOW homepage