Page through Brandeis University Press publications today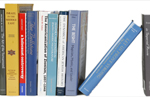 Brandeis University Press publications will be on display in the Faculty Club on Thursday, March 12, 11:30 a.m. - 2 p.m. Come to browse an extraordinary array of books in the humanities and social sciences, including books in women and gender studies, history, literature and the arts, Jewish Studies and Israel Studies. Book proposals from Brandeis faculty are especially welcome.

Brandeis University Press is a member of the University Press of New England publishing consortium, whose members include Brandeis, Dartmouth College, Northeastern University, Tufts University, the University of New Hampshire and the University of Vermont.


Return to the BrandeisNOW homepage