March 21 conference will examine the future of the 'left'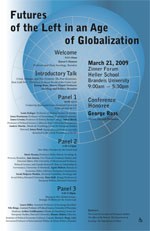 On Saturday, March 21, Brandeis University will host an all day conference, "Futures of the Left in an Age of Globalization," in Heller School's Zinner Forum from 9 a.m. to 5:30 p.m.
Conference panelists will discuss the current status and future prospects of 'left' and 'center-left' political parties across the global terrain with specific focus on North America and Europe. The key address will be delivered by the conference honoree George Ross, the Morris Hillquit Professor of Sociology and Politics at Brandeis.
The conference features 18 esteemed participants from 10 institutions including Brandeis, Harvard University, Princeton University and the European Commission among many others. Topics are divided among three panels:
"Comparing Spaces and Cases: Successful Center-Lefts in Europe and the U.S."
"New Policy Frontiers for the Center-Left"
"Playing in New Global Arenas: Strategic Problems for the Center-Left"
The conference is sponsored by the Center for German and European Studies, the Office of the Provost, the Department of Sociology and the Politics Department.
Return to the BrandeisNOW homepage