Basketball teams face new season with confidence
Men's and Women's hoopsters look to resume winning ways
The Brandeis men's basketball team looks to return to the NCAAs this season after capturing the ECAC Division III New England crown last March. The Judges lose just one significant player from 2010-11 in Christian Yemga '11, the team's leading rebounder. The Judges do return more than 90 percent of their scoring, more than 80 percent of their rebounding and the top scoring and FG percent defense (63.9 ppg and 41.6 percent) from a squad that finished 19-9, 6-8 in the UAA. Coach Brian Meehan's squad will look to duplicate their school-record 11-0 start and extend it further into the conference slate.

Leading the way among the returners are All-UAA honorees, senior guard Tyrone Hughes and sophomore forward/center Youri Dascy. Hughes finished second in the UAA in steals (1.8 spg) and fourth in assists (4.7 apg) while scoring 8.6 ppg and a career-high 3.4 rpg last season to earn second-team honors. He ranks seventh in career steals and 12th in career assists entering the season. Honorable mention Dascy was the team's leading scorer (10.7 ppg) and second-leading rebounder (5.0 rpg), while also leading the UAA with a 63.2 field-goal percentage. Senior forward/guard Vytas Kriskus, the team's second-leading scorer at 9.7 points per game, is one of just nine players in school history with 100 career 3-pointers and enters the season just under 300 points shy of 1,000 for his career.

Forward Ben Bartoldus, who was named the MVP of the ECAC tournament, matched Hughes in scoring at 8.6 ppg. Junior Anthony Trapasso stepped into the starting lineup for the Judges' final nine games of the season, averaging 6.6 ppg and shooting 46.5 percent from the field in that span. Sharpshooter Derek Retos, returns to bring instant offense off the bench after connecting on 42.5 percent from downtown for the season. Sophomore Ruben Kanya started five games in the backcourt and averaged five points per game in conference action, while sophomore Alexes Schmidt and Stoyle bring size and athleticism off the bench. Newcomers Myles Brilhante (Fall River, Mass.) and Ishmael Kalilou (Wilton, Conn.) look to contribute at guard and forward, respectively.
----------------------------------------------------------------------------
Warwick, Russo and Eisenbies claim UAA Athlete of the Week honors
----------------------------------------------------------------------------
In head coach Carol Simon's 25th season at the helm, the Brandeis women are looking to bounce back from their first sub-.500 season in more than a decade after a 12-13 finish (4-10 UAA). They will have to do so without two of their three leading scorers and rebounders from a year ago.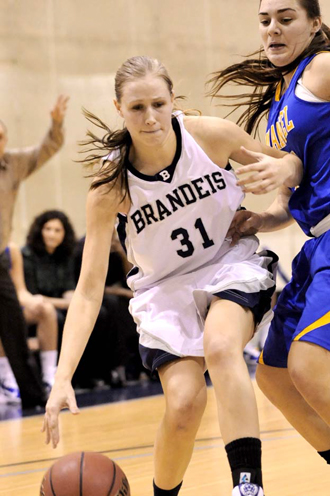 Their top returner is senior guard Morgan Kendrew, a second-team All-UAA and third-team All-New England selection by D3hoops.com. Kendrew averaged 12.9 points per game last season, fifth-best in the UAA. She also connected on a team-high 35 3-pointers and is within reach of 100 for her career, which would make her only the fifth woman in school history to reach that plateau. Kendrew also shot 82.8 percent from the free-throw line (fourth in the UAA) and enters the season ranked second on the Judges' career list with an 80.9 FT percent. Senior guard Kelly Ethier is the team's next top returning senior, having averaged 5.2 points per game, while junior forward/center Samantha Anderson is Brandeis's top returning rebounder at 4.7 caroms per game, 19th in the league.

The Judges will also benefit from the return of two players who missed all or most of 2010-11 to injury in guard Diana Cincotta and forward Shannon Hassan. Cincotta started 23 of 24 games in 2009-10 and averaged 6.8 points, 2.1 assists and 2.0 rebounds per game, leading the team with a 37.5 3FG percent, fifth in the UAA. Hassan averaged 5.3 points and 4.3 boards in 20 contests as a sophomore, scoring in double figures three times, including twice in UAA contests.

Sophomore forward Kasey Dean will look to continue her improvement after starting the final nine games of the season, when she averaged 4.4 points and 4.0 rebounds per game. Brandeis also hopes newcomers Mikaela Garvin, Hannah Cain and Erika Higginbottom – a transfer from Division II Stonehill – can make splashes in their first campaigns.

The Brandeis men lost their season opener, 91-82, at home against Lasell College on Nov. 15 , while the women defeated WPI, 52-42, that night. The women's home opener is part of the 2011 Judges Women's Basketball Classic, when they take on Endicott College Nov. 19 at 6 p.m. Review the complete schedules for the men and for the women.
As always, we'd love for you to join the crowd in Red Auerbach Arena, but if you can't, the Brandeis home games can be followed online three different ways: follow the numbers with LiveStats, watch the action via streaming video or listen the feed from 100.1 WBRS-FM at wbrs.org.


Return to the BrandeisNOW homepage