Sam Shepard's piece of Brandeis history
Sam Shepard left an enormous legacy in American theater, film and literature when he died Monday, July 31 due to complications from ALS. He also holds a small place in Brandeis history.
The list of Brandeis Creative Arts Award winners is illustrious - Tennessee Williams, George Balanchine, Grace Paley, Mark Rothko, Peter Matthiessen and Georgia O'Keeffe to name a few. But only a select group were recognized twice, among them Shepard, Jerome Robbins and Aaron Copland. Shepard received a Brandeis Creative Arts Awards citation in 1976 and a medal in 1984.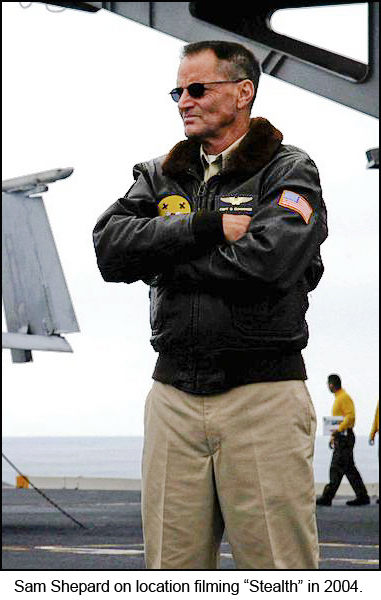 When Shepard was recognized in 1976, he was living on a ranch in California and unable to make it to New York to receive the award, but he sent theater producer and director Wynn Handman to accept it on his behalf and submitted an acceptance speech, which is possessed by the Robert D. Farber University Archives & Special Collections Department at Brandeis.
"In a public form of literature such as theatre is, the 'public' often becomes a phantom partner to a writer. He always knows it's with him but he can't put his finger on it somehow," Shepard wrote in the speech. "An award like this, which you've generously seen fit to give me for my work, helps to verify that phantom and even adds another dimension to my personal aims in writing for the theatre. I'm dedicated to the possibilities of exploration and discovery in my work and it's even more exciting when the results of that exploration find a home in a wider audience."
Those notions of reaching a wider audience were quite prescient. Shepard had been named playwright in residence at the renowned Magic Theater in San Francisco in 1975, and in the late seventies and early eighties produced some of his best-known work. In 1979 he won a Pulitzer Prize for Drama for his play "Buried Child." 
By the time he was awarded a creative arts medal in 1984 – by a jury of John Updike, Irving Howe and William Lieberman - Shepard was not only viewed as a generational playwright, he was a Hollywood star, having portrayed Chuck Yaeger in the film adaptation of "The Right Stuff" in 1983, among other roles. 
Launched in 1956, the Brandeis Creative Arts Award honored extraordinary achievement in diverse artistic disciplines until it evolved into the Poses Institute of the Arts at Brandeis University in 1995. After a two-decade hiatus, the Brandeis Division of Creative Arts re-launched the Creative Arts Award in 2015 by giving it to soprano Tony Arnold. Now given every other year and featuring a yearlong residency, the 2017 Creative Arts Award winner is playwright Michael Weller '65.
Return to the BrandeisNOW homepage