Letter from the Chair
Who We Are: Liberal Arts in Action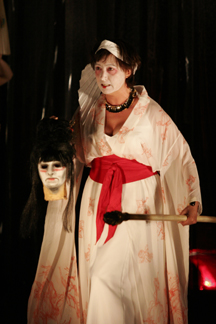 Faculty Adrianne Krstansky in "The Bacchae" (2006)
Dear Students,
Theater can teach you to perform confidently in an ever changing world. Theater is liberal arts in action. Our classes and productions immerse students in the practice of commitment, collaboration, working under pressure, total body and mind engagement and the generous act of sharing with an audience. These skills are life skills there won't be a field you enter where you won't rely on these skills and your ability to apply them to make meaningful connections, work with colleagues, lead large groups, and innovate the next big idea.
The Brandeis Department of Theater Arts' rich history is embedded in the legacy of Leonard Bernstein and the gifted collaborators who invigorated Spingold Theater Center into being. You, our students, bring a wide range of experience and talent to our department through your studies, which are as diverse as the sciences, social sciences, education, literature and the other creative arts. The study of theater arts requires that you stretch your imagination, gather your academic research and put it into action culminating in a performance, design work, written script or scholarly paper. We stand on the shoulders of the visionary artists who brought all of the Brandeis Creative Arts Departments to life and endeavor to instill in you the same kind of artistic innovation, discipline and courage.
As faculty and staff we strive to uphold several core values that we recognize through our own professional lives and continuing study to be vital to the education of young theater artists.
We value the partnership of academic inquiry and artistic exploration.  We believe that scholars and artists intersect and that our methods and processes complement and enhance each other. 
We offer a wide array of hands-on, practical experiences so young artists can position themselves to enter the field or pursue advanced study. 
We allow our students to experience in real time how the study of dramatic literature translates to the stage, how training to see the visual aspects of storytelling becomes a set design, and how actors utilize training methods to develop full-fledged characters within the context of an entire production.
We believe in mentorship. You will develop deep artistic and educational relationships with faculty and staff. 
We strive to uphold the values of ensemble and collaboration. We value communication, listening, give and take, and the need for personal and creative generosity. 
We encourage an intensive study of theater history, of what the theater artists in the past created and discovered, and how these artists served their communities. We challenge students to take on that kind of vision and innovation in the theater today and encourage them to know whose shoulders they stand upon so they can become the theatrical innovators of the future.
We possess the utmost faith in risk, experimentation and the lessons failure can teach us. We take very much to heart our role to provide a safe and supportive atmosphere that will allow you to aspire to new levels of experience, understanding and creativity. 
We value saying 'Yes' to each other and celebrating in our students, and ourselves, our gifts, talents and dreams for the future.
We engage in new play development, devising new work, classics, contemporary theater, dance, and pay special attention to works that explore themes of social justice.
We welcome professional artists, managers and technicians into classrooms and the productions.  This enables our students to apprentice with actors, directors, stage mangers and designers who are working at the top of the profession. These relationships can carry forward in students' lives upon graduation.
We encourage students to expand their education beyond the Brandeis campus, through study abroad opportunities, professional internships and to immersive training opportunities in design, acting, production, etc., such as the National Theater Institute, Second City in Chicago, Boston University London Internship Program and British Academy of Dramatic Arts.
And last, but certainly not least, we welcome students of every discipline as equal citizens of our department, while simultaneously maintaining a commitment to provide our majors with rigor and challenge both in the classroom and through productions. 
Invitation from the Chair and Academic Office
To all prospective students and parents, we are so glad you are taking the time to look at our website and learn more about our department. You are most welcome to visit anytime, sit in on a class, meet faculty, staff and students and discuss with us your dreams and goals for your college experience and further immersion in the arts. At the forefront of our department is a strong community of students, faculty and staff who work every day toward the common privilege of creating and discussing the world of theater through classes, lectures, workshops and performances. We value our role within the university as an incubator for difficult conversations and the way that we can present these discussions on stage. It would be a great joy to meet you in the future.
Adrianne Krstansky
The Barbara Sherman '54 and Malcolm L. Sherman Chair of Theater Arts
Alicia Hyland
Director of Academic Programming and Senior Academic Administrator