Profile: Anya Shire-Plumb '22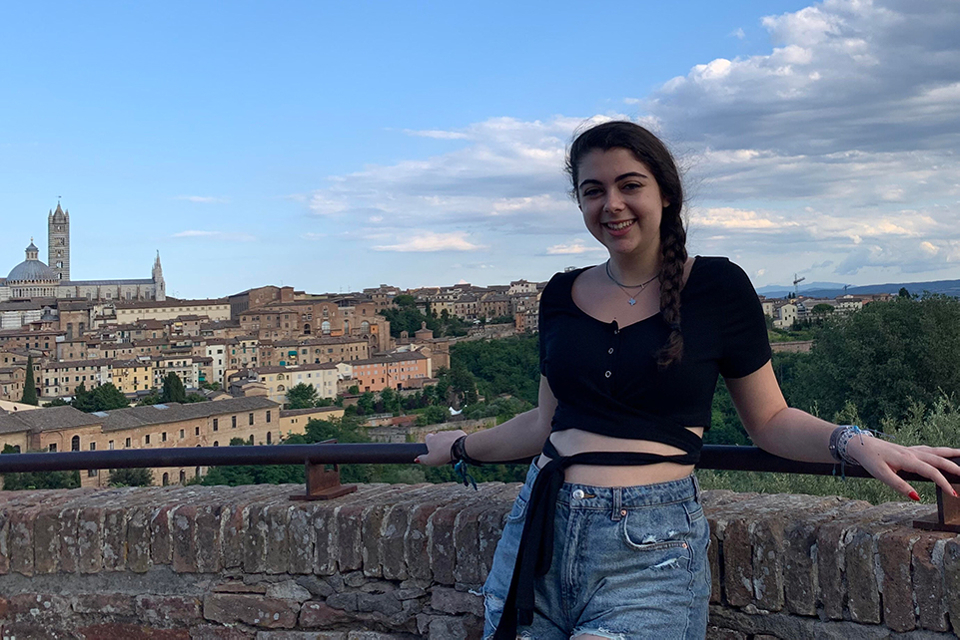 Major/minor: Studio Art and Psychology
Year abroad: Summer 2019
Reason you chose this program: I loved the idea of learning about the Italian masters in the heart of Tuscany while also using their techniques to work on my own art. It helped me progress with my major as well!
Favorite classes: Both of the classes offered overlapped a lot so they acted as a singular incredible experience. Although the classes focused on the renaissance era, we also often visited contemporary art galleries so the mix of old and new was very refreshing.
Housing situation: I was living in an adorable apartment that was about five minutes from the center of Siena so in the evenings I could take my sketchbook and walk down the street to the central piazza where I would share a bottle of wine with my peers on the program, and maybe even meet some native Italians.
Best memory: Apart from the various trips around Italy with my class, the biggest event of the summer had to be the medieval Palio horse race that takes place in the central Piazza at the very end of the program. The Sienese take this event so seriously that they have parades and garden parties happening every week leading up to the important day. It was so interesting learning about the different neighborhoods that compete in the race, and it really allowed us to participate in the Sienese culture.
Greatest challenge: I didn't know anyone going on the program beforehand so I was nervous about making friends but we all bonded a lot both in class and outside of class, so now I have friends in my major with whom I have shared a really unique experience with.
Did you apply for any scholarships? If so, which ones and how did they impact your time abroad? I applied for the Remis Grant and it was very helpful in allowing me to afford the program.
What you know now that you didn't know before: You can never truly get lost in Siena because every neighborhood has its own animal mascot and flag so you can always tell where you are by looking at the colours on the streets.
Fact about (country) that you think people would be surprised to learn: Every region in Italy has a different dish that is traditional to that area. So essentially, there is no such thing as general Italian food, there is only a collection of authentic dishes from all the different parts of the country.