Profile: Caylee Forschner '20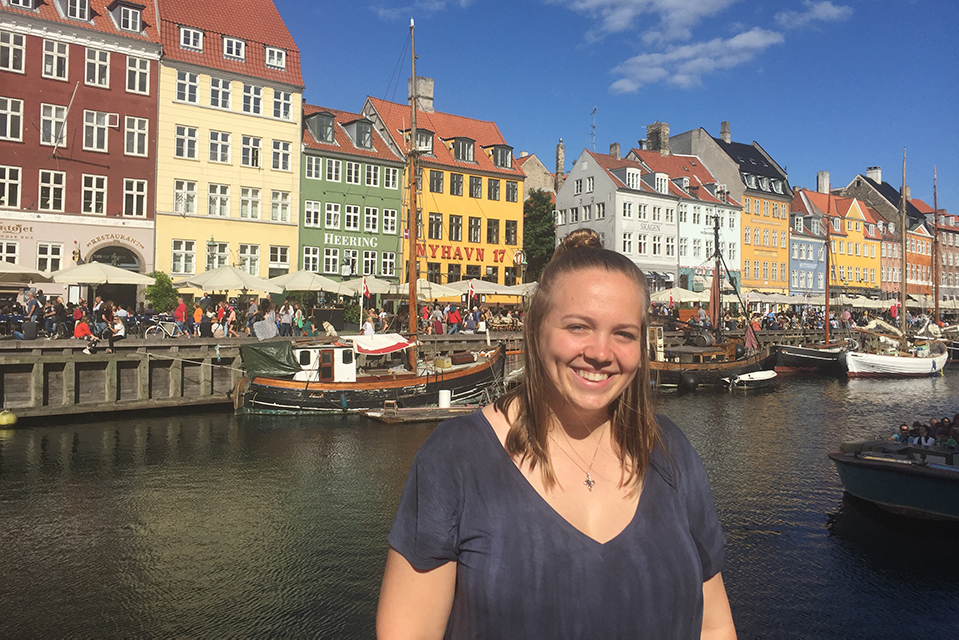 Major/minor: Biology and Health: Science, Society, and Policy
Year abroad: Fall 2018
Reason you chose this program: When I discovered the DIS: Medical Practice and Policy program during my study abroad search I knew it was the perfect fit! I was especially excited about the core course that allowed me to learn about medicine first hand, in multiple hospital settings around Europe. I was also intrigued by the policy portion of my core course as it helped expand my knowledge of various types of medical systems and the pros and cons of each. Their extensive list of electives also drew me in as it allowed me to build a study abroad experience catered to my various interests, both inside and outside of the classroom. I probably would have chosen this program regardless of location, but it was a huge benefit to be in Europe. I had always dreamed of traveling around Europe so I was very excited to find such a perfect program that also incorporated travel. The program took me to Denmark, Austria, and Hungary, but I also made the most of a semester in Europe and traveled to nine other countries with friends and family! 
Favorite classes: My favorite class was definitely my core course Medical Practice and Policy: Human Health and Disease, A Clinical Approach. The material was interesting but the experiential learning was what really set the class apart. Every class was taught by physicians in the hospital, we interviewed real patients to do case write ups, and we had hands-on experiences practicing procedures and scenarios. We also traveled to learn about medical systems from doctors in other countries, which was an experience unlike any other. While this class stood out as my favorite, every class had some aspect of experiential learning and I enjoyed them all. One of DIS's mottos is that the "teachers do what they teach and teach what they do", which really added to the overall classroom experience, regardless of the subject.
Housing situation: I decided to live with a host family while I was in Denmark and am so glad I did. They were so welcoming and really added to my overall experience. I had a host dad and mom, and two younger host brothers. The house also had an in-law apartment so my host grandparents lived with us for part of the year. Living with a host family helped immerse me in the culture and language of Denmark, because otherwise my association was predominantly with other American students. My host family really helped Denmark become my home away from home.
Best memory: During my core course we had two laboratory sessions. One was spent learning about emergency medicine and running ER simulations in Herlev hospital. During the second we were taught how to suture, put in a catheter and put in an IV. The medical student running the IV station told us we could practice on each other after the mannequin arms so my friend and I agreed to be each other's test subjects. I got the IV into her hand on the first try and felt super accomplished and ready to tackle medicine!My best travel memory is spending thanksgiving in Madrid at a Flamingo show, eating Paella and drinking Sangria. 
Greatest challenge: My greatest challenge was the initial adjustment over the first weekend. We arrived on a Saturday and I was picked up by my host family but didn't meet any students until monday. However, on social media and our group chats many students from the kollegiums (dorms) we're meeting up and getting to know each other. I began to feel left out and overwhelmed by being thrust into another language and culture without any other students around. I decided to take it one day at a time and come monday when orientation started and my homestay network got together, things got so much better and the semester was only up hill from there!
Fact about (country) that you think people would be surprised to learn:Danish children go to school for about 200 days out of the year and only get 6 weeks off for summer vacation, but the students rarely have homework.Also, Danish people consistently rank some of the happiest people on earth.