Profile: Jasmine Etesse '15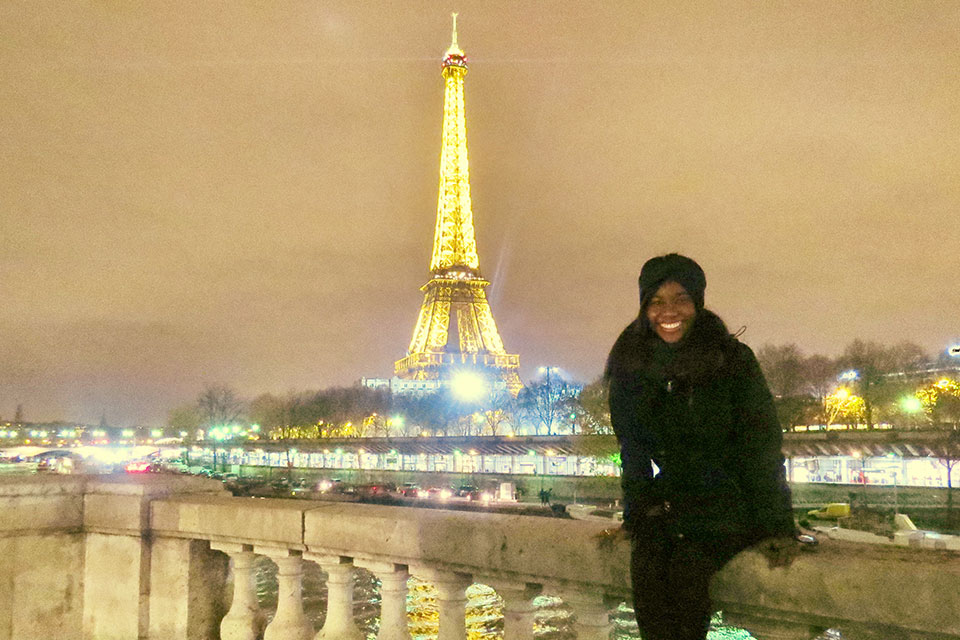 Major: History
Study Abroad Program: Academic Programs Abroad in Paris (Fall 2013)
Reason you chose this program: I chose APA because it was a full immersion program which allowed me to take classes in French, live with a host family in Paris, and take cultural trips throughout the semester. I wanted to learn as much French as possible and I felt like this program would be very useful to my learning French.
Favorite class: My favorite class was Art History of the 19th Century. It was very challenging because it was a lot of memorization but it was my favorite class because I learned so many interesting things about some of the most famous paintings in the world. Also, classes were held each week in the museum where the particular painting was stored which was a wonderful opportunity.
Housing situation: I loved my living situation! I lived with a host family in the 17th arrondissement of Paris. My family lived in an apartment on the 4th floor and I had my own room on the 5th floor with a bed, sink, bookcase, and desk. It was very convenient because I spent most nights in my host family's apartment eating dinner with them and watching TV, but then I could go up to my room on the 5th floor and have as much privacy as I wanted, which was great. I loved this because I didn't have to worry about disturbing my host family when I wanted to Skype with my family late at night.
Best memory: My best memory was taking a boat tour with a friend I had met at a church I attended in Paris. We immediately clicked and it was great because we spoke French the entire time. I felt much more comfortable speaking French among the French friends I met and I enjoyed exploring Paris by boat while learning more about my friend.
Greatest challenge: My greatest challenge was a class called Sociology of Deviance. The class was located at a Paris university and part of the assigned work was doing a group project that resulted in an oral presentation and a final paper. It was challenging because I did not want to let my group down because of my language difficulties and the oral presentation in front of the class was extremely intimidating. In the end, the oral presentation went well and my group was very friendly and made me feel comfortable with the work I produced.
What you know now that you didn't know before: I now know that French students are very eager to make American friends. Before I was very reserved about speaking up and talking to people in order to establish relationships. I thought that people would feel aggravated by my language difficulties, but truthfully I wish I had spoken up more because I probably would have made many more friends.

Fact about France that you think people would be surprised to learn: I think people would be surprised to learn that - contrary to popular belief - French people are not all-around rude people. I can honestly say that I did not meet one rude person on my trip. You just have to make sure that you make an honest effort to speak French and they will greet you with patience and a smile.