Profile: Nabonita Hoq '17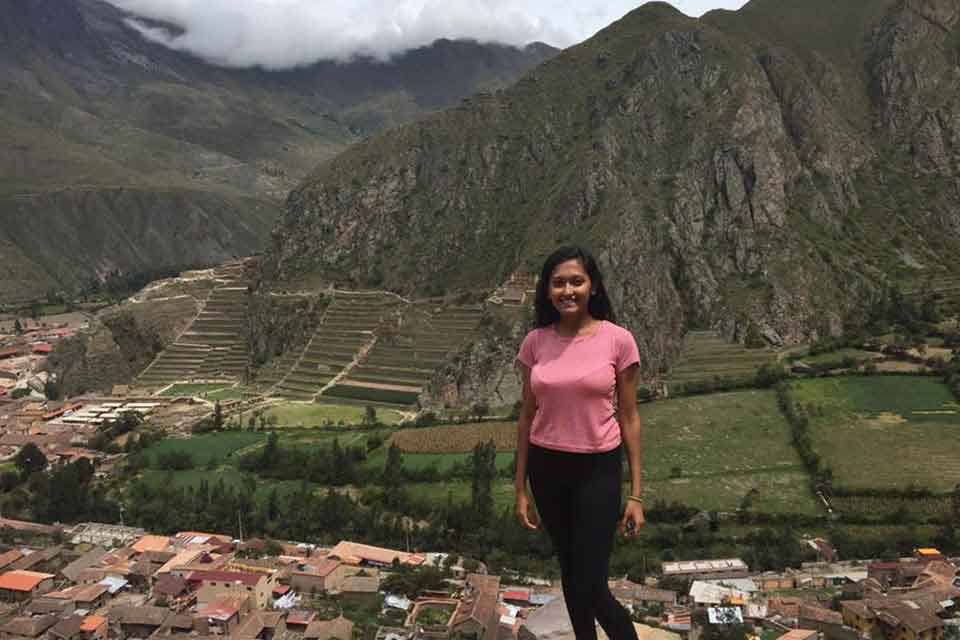 Major/minor: Economics
Study Abroad Program: SIT/ Peru: Indigenous Peoples and Globalization (Spring 2016)
Reason you chose this program: I chose this program because I wanted to explore other areas and methods of studies. I was drawn to the field based approach of this program and wanted to learn more about the indigenous population of Peru while improving my Spanish since all the courses are taught in Spanish and students are required to live with host families. I love trying new food and traveling to new places and this program allowed me to do both!
Favorite classes: My favorite was Quechua! Although this class was taught for only two weeks, I was able to practice my Quechua with local Peruvians and my host family on Lake Titicaca. We also learned some funny words!
Housing situation: I lived with a host family in Cusco, Peru. I had a host mom, host dad, and a 7 year old host brother. We lived relatively close to the center of Cusco and near my other friends. I had my own room with an attached bathroom. My host mom made a lot of great food and became one of my good friends! They cared about me a lot and treated me like their one of their own.
Best memory: My program took us to visit a school in a very low income neighborhood in Cusco called Pillao Matao. We got the chance to talk and play with the students. We did a mini project presentation where we drew one another and then talked about our differences and what makes us who we are. The children didn't want us to leave! I really had a great time there.
Greatest challenge: Halfway through my semester, I was pick pocketed on the bus and someone stole my phone. This was my greatest challenge because I had difficulties explaining the situation on the spot due to the language barrier. I felt as though I had lost all memories, since I lost all the pictures, and could not communicate with my family and friends back home. I needed time to learn from this experience and eventually move on and appreciate what was still around me.
What you know now that you didn't know before: You can find 3 course meals in Peru for 8-15 soles which is about $2-$5. I took full advantage of that and ate a lot of steak!
Fact about Peru that you think people would be surprised to learn: There are many languages spoken in Peru. Most people think it is Spanish and Quechua, however there are many other indigenous languages and also different dialects of Quechua. My host family in Lake Titicaca spoke Quechua but had a different vocabulary from the Quechua speakers in Cusco. Peru is also a very conservative country. They are conservative in the clothes they wear and their political views. Most Peruvians are Catholic. However, throughout my stay, I have seen many rallies about more liberal topics.