Profile: Minnie Norgaisse '19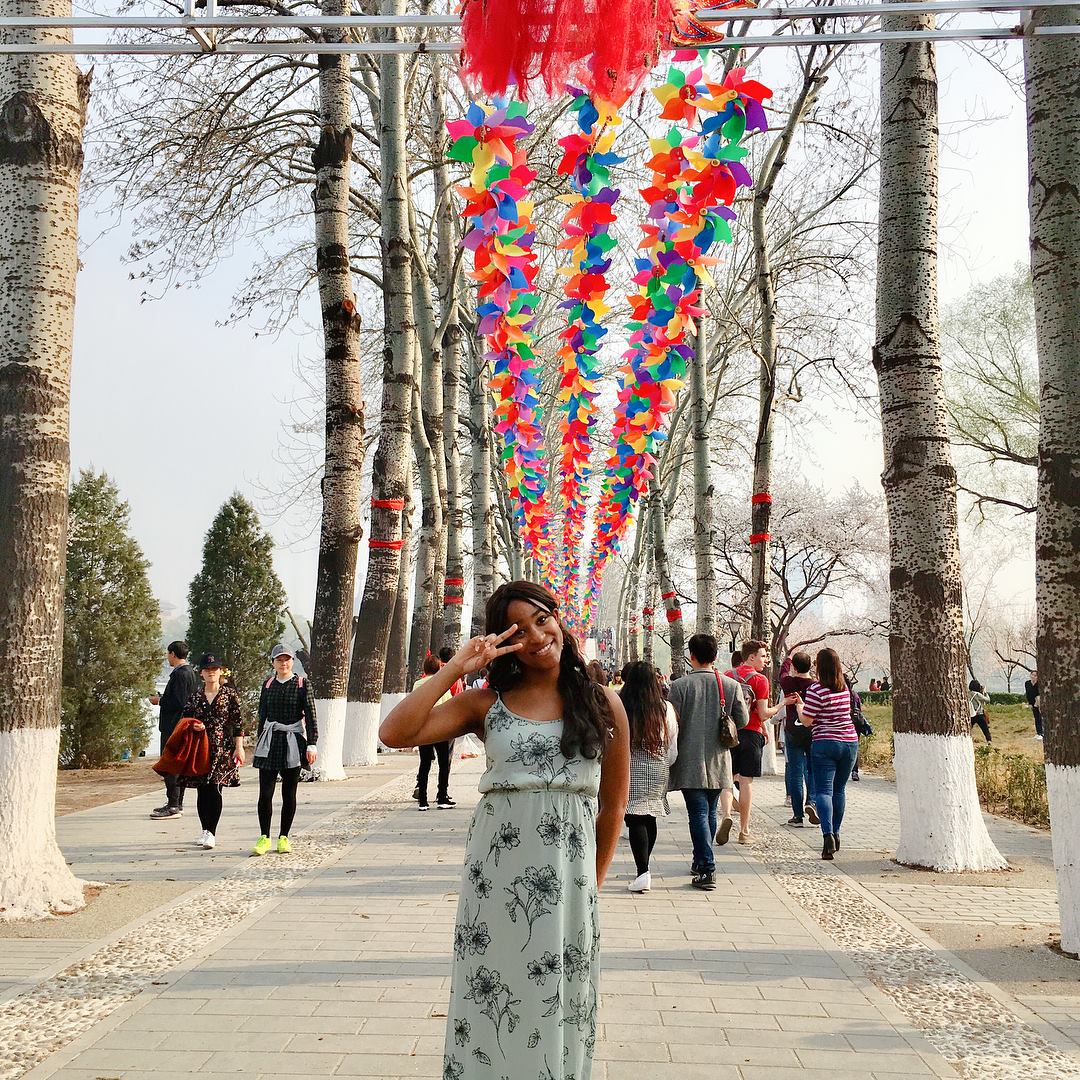 Major/minor: East Asian Studies major, International Global Studies minor
Study abroad program: CET/ Intensive Chinese Language in Beijing (Spring 2018) & CET/ Summer Intensive Chinese Language and Internship in Taiwan (Summer 2018)
Reason you chose this program:
It was language intensive, and my main goal for going abroad was to improve my Chinese! I went on the CET Beijing and CET Taiwan programs, and the Beijing program institutes a language pledge where students are required to only speak Chinese 24/7. In Taiwan, the language pledge is limited in the sense that you only have to speak Chinese while on campus. It was definitely a challenge at times but my Chinese improved by leaps and bounds during my time on the program.
Favorite classes: Chinese Language
Housing situation:
In Beijing, I lived on the campus of Capital Normal University with the other program's students. Each student on the program was paired up with a local roommate (mine was from Szechuan Province) and this really helped us improve our Chinese both in and out of the classroom. In Taiwan, students live in apartments near National Taiwan University with Taiwanese locals and other international students. I loved this housing situation because I got to make friends with people from all over the world and we still keep in touch today!
Best memory: In China, visiting the Great Wall in Beijing and seeing the Terracotta Warriors in Xi'an! In Taiwan, visiting Taroko Gorge in Hualien and taking cooking classes at Ivy's Kitchen in Shilien.
Greatest challenge: Maintaining a 24/7 language pledge in Beijing. This was tough for two reasons, the first being that not everyone shared the same language level and it was hard to initiate conversations with those who had never studied Chinese before and with those whose Chinese was near native fluency. The second reason is that it was difficult to foster deeper relationships with the other people on the program when speaking in Chinese limited our possible topics of conversation. I think that finishing off my study abroad experience in Taiwan was a smart choice because while I still had a language pledge, it was not 24/7 and so I got the chance to relax my brain for a little bit. In addition, it was easier to make and maintain friendships and that's probably one of the largest takeaways I have from the Taiwan program.
Did you apply for any scholarships? If so, which ones and how did they impact your time abroad?
Yes! I applied for and received the Boren Scholarship and it completely covered all expenses for my time abroad. In addition to receiving $20,000 for program expenses, I am obligated to seek employment with the federal government shortly after graduation to fulfill a service requirement. I wouldn't have been able to go abroad without the scholarship and am extremely fortunate to have received it.
What you know now that you didn't know before: It takes about 2 and a half hours of hiking up 4,000+ steps to get up to the Great Wall! Definitely not for the faint of heart.
Fact about China and Taiwan that you think people would be surprised to learn: For China - the Forbidden City houses over 9,000 rooms! For Taiwan - Taiwan is the birthplace of cat cafes.