Profile: Rashieda Pugh '16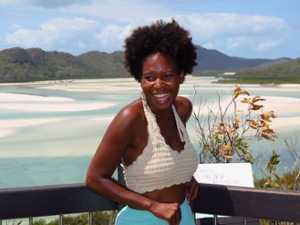 Major/minor: Biology
Study abroad program: IFSA-Butler/ University of Queensland (Fall 2015)
Reason you chose this program: It allowed me to choose courses that I was interested in and provided me with personal and academic support through out my experience.
Why did you choose to study abroad when you did: I wanted to go abroad my senior year because I wanted to have completed all my pre-requisites for my major before I went abroad. I also wanted to have a good GPA before I left due to the fact that my study abroad GPA doesn't get factored into Brandeis GPA.
Favorite class(es): I have two favorites. 1) Human Anatomy (1005) because I was able to work with cadavers (human bodies) during labs and it really reinforced my love for medicine. 2) Australia Environmental marine course was a great experience. We did research on the Great Barrier Reef by snorkeling and going on night dives. I had never been snorkeling or diving before this experience.
Housing situation: I lived in an amazing Apartment in the city of Brisbane, Queensland. I lived with other foreign students and was a 5 minute commute from school. My OZ friends loved hanging out at my house because it was right in the middle of everything.
Best memory: My favorite memory was going hiking in the Glass Mountains. The program planned a trip for the students to spend a fun filled weekend hiking, dancing around camp fires, and zip lining. I had never done any of these things before and it really showed me how fun the outdoors can be.
Greatest challenge and how you overcame it: My greatest challenge was finding ways to not go out and spend money. Living in this culturally diverse city it was very hard not to try new foods and go to food festivals (which happened literally every week). To overcome this challenge I created an excel sheet for my spending and gave myself a set budget for outings.
What you know now that you didn't know before: I didn't know that the Torres Strait Islander community is fighting Australian government for their native title to the land that westerners took from them.
Fact about (country) that you think people would be surprised to learn: Great Britain used Australia as a prison because their jails were getting overpopulated.
Anything else you'd like to add: Australia is amazing for science majors, especially Queensland. Queensland offered everything from city life, parties, great outdoors, and beautiful beaches. I am so grateful that I was able to go to this beautiful country.