Profile: Seth Wulf '21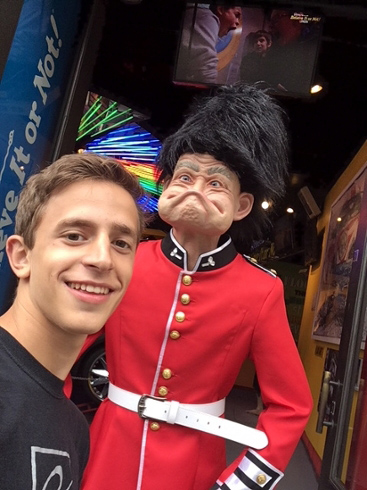 Major: Undeclared
Study Abroad Program: Midyear Program in London, UK (Fall 2017)
Reason you chose this program: At first I was kind of confused about being accepted as a midyear and I was wondering what I would do with my empty semester if I chose Brandeis. When I learned about the program, I immediately got excited because I could seize the time I had off, and use it to earn academic credits, meet fellow Brandeis first years, and explore Europe!
Why did you choose to study abroad when you did: The prospect of leaving the country my first semester really excited me because it was so different from what all my other friends were doing. Before I even left I was already looking forward to tell my friends at home about my adventures when I returned.
Favorite class(es): Sociology, and Cornerstone (a required class, but a great one).
Housing situation: Princess Elizabeth House, Highgate
Best memory: I did a lot of theatre in high school, and it was hard to not have a show to be a part of while I was abroad. I missed singing in front of an audience. In our first month of exploring the area, me and my group of friends came across one of the many local pubs, and it just happened to be karaoke night. I stepped right up and sang 'Can't Take My Eyes Off of You' (Frankie Valli) and one by one, the locals at the pub all joined in singing with me. It was great to feel that rush of performing again. My friends that came with me sang some High School Musical, and Backstreet Boys. After the singing, adults in the pub came up to us congratulating us on our "performances" and we got to know the locals a little better than we did before.  As Americans it is easy to feel like an outsider in a foreign country, but this was the first time where I really felt like a Londoner.
Greatest challenge: My greatest challenge was definitely cooking. There isn't a meal plan, and I'm not the best cook, so the first couple weeks I ended up having a lot of pasta with my roommate. This challenge was quickly overcome with the invention of Family Dinners. My roommate and I banded together with some fellow Brandeisians, and every night, a different pair of people were in charge of cooking for everyone. We started with four but we gradually grew to eight, and at one point eleven.  It was a great way to bond with each other, and I was a little more comfortable cooking when our study abroad was all over.
How did this experience impact your arrival at Brandeis in January: College in general can feel very socially overwhelming, especially if you're naturally introverted.  In London however, I was forced to be even more outgoing than I already was, in order to figure out how to navigate London and get to school on time. My closest friends who helped me not get lost in the great rainy city.  Studying abroad pushed me to socialize more, so when I got to Brandeis, I didn't even have to think about branching out and making new friends. Studying in London made being social and friendly even easier for me.
What you know now that you didn't know before: I am now a master of the London Public Transportation. I entered London as someone who would get lost in my own high school, and I exited as someone who could take you anywhere in London, by bus, train, or boat.
Fact about that you think people would be surprised to learn: The British flag is actually a combo of symbols from three of the four countries in the United Kingdom. The red upright cross from England, the blue and white is from Scotland, and the smaller red X is from Northern Ireland. Poor Wales is sadly not represented on the flag, but is also a crucial part of the United Kingdom.