Student & Alum Profiles
CAST Alumni
The interdisciplinary minor in Creativity, the Arts, and Social Transformation (CAST) is proud to announce its third graduating class. During their time at Brandeis, and through their varied artistic practices and processes, seniors in the CAST program have engaged in work at the nexus of arts, culture, social justice, and peace. Each profile illustrates the ways in which these students have explored and developed their own creative approaches to creating ethical social change.
Anthony Arcese '18
CAST Minor
As a biology major and cultural-studies focused music major, I continue to see Creativity, The Arts, and Social Transformation as bridging the gap between scientific possibility, social justice, and resilience. I've explored this relationship while volunteering at the Dana-Farber Cancer Institute, where I perform solo viola compositions for cancer patients undergoing chemotherapy every week. Bringing art into a space that is afflicted by life-threatening disease, loss, fear of loss, and filled with a need for resilience, I've seen that creative and artistic approaches can renew feelings of humanity and hope in many ways, even in spaces grounded in scientific knowledge. I'm certain that these experiences and exposures to creative approaches as a CAST minor will follow me in my future, as a medical student and beyond, when I hope eventually to serve as a physician for underserved communities.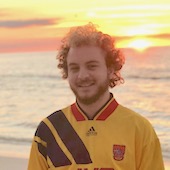 Marcelo Brociner '18
CAST Minor
My name is Marcelo Brociner, and I'm a Cuban-American artist and art activist from Somerville, Massachusetts. The CAST minor has been an important part of my Brandeis career because it has demonstrated the power of the arts in its ability to simultaneously mirror and influence society. BLNC (balance), an art collective which I co-founded, just wrapped up its third annual local art showcase titled ONE, and I also just released my first fully-streaming album titled Price of Paradise. This upcoming summer, I will be helping create a documentary archiving a four-week music education program run by AfroRazones in Havana, Cuba. Ultimately, I plan to be involved in the arts in some capacity throughout my life, whether or not it is directly related to the career I pursue in the future. It's important to remember that art-making and career-pursuing never have to be exclusive.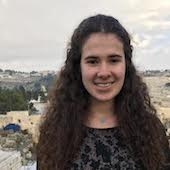 Rachel Geller '18
CAST Minor
Rachel Geller is excited to be embarking on her final semester at Brandeis and to complete her capstone project for the CAST minor and her Interdisciplinary Independent Major (IIM) in Conflict and Reconciliation Studies. For her CAST capstone, Rachel plans on collecting stories that answer the question, "what does it take for someone to change their mind?" She hopes to collect stories in a range of mediums, including text, audio, and visual and performance art, keeping in mind that everyone expresses themselves and learns new things in a different way. With these submissions, she hopes to create an exhibit that will encourage viewers to keep an open mind and not to be closed off to the possibility for change. Post-graduation, Rachel plans on applying to law school to learn more about the best way to advocate for human rights.
Julia Green '18
CAST Minor
Profile forthcoming.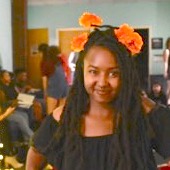 LaShawn Simmons '18
CAST Minor
My name is LaShawn Simmons and I'm a senior at Brandeis University majoring in African and Afro-American Studies with minors in Anthropology, Art History, and Creativity, the Arts and Social Transformation (CAST). I firmly believe the arts have the ability to inspire and provide innovative approaches to solving and investigating social issues. I've been able to see this through my work editing and art programming, as chief editor and founder of Ebony Axis, a zine that features and anthologizes the beautiful and varied narratives of Black women on Brandeis campus via poetry, prose, and the visual arts; and through collaborating with the Rose Art Museum and Dr. Cynthia Cohen on three salons featuring artist in residence Jane Sapp, who utilizes artistic expression as a form of social change. Outside of Brandeis, I was able to support local Boston youth in expressing themselves through film and photography with the Transformative Culture Project as a Eli J. & Phyllis N. Segal Citizen Leadership Fellow this past summer.
I am thrilled to continue similar work as a current Sherman H. Starr Family curatorial intern at the Rose Art Museum. For my CAST capstone project, I plan to produce a photography series and a collection of poems profiling and exploring the social significance of auxiliary dance group, Toxic. After graduation, I'm excited to explore career opportunities centering the arts and social transformation in the Greater Boston Area or Atlanta before pursuing a graduate degree.
Alona Weimer '18
CAST Minor
Profile forthcoming.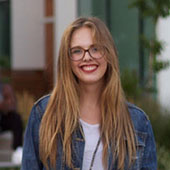 Maggie Ziegel '18
CAST Minor
My name is Maggie Ziegel, I'm from Toronto, Canada, and the CAST program has made me fall in love with art's relationship to activism. In my four years in the minor, I have stretched myself immensely in the name of art and social justice. I performed in different theatrical performances that challenged norms and societal bounds. I began writing poetry that made a statement, then began performing in many slam poetry competitions (sometimes even winning them!). In the last six months I have begun doing sculpture, and learning about how I can influence perceptions with my hands and the objects they come across. The CAST minor has taught me so much about the absolute vitality of art in any social change, and about the power of a creative mind. You don't need to be the best sculptor, actor, rapper, etc. to be successful in making social change with your creativity; you just need to be open to learning and using new lenses with which to look at the world. Without CAST, I doubt I would have begun sculpting, and now, in spring semester 2018, I've had my first full-size installation up on campus. After graduation, I have absolutely no clue what is next for me, but I know for a fact that CAST and its principles and lessons will stay with me forever. Thanks to the CAST minor, I will never stop creating, I will never stop organizing, and I will never stop learning.