Events
2019-2020 Events
Laura Quinney, Close Looking Series (MCH)
October 2, 2019
2-3:30
Rapaporte Treasure Hall
Laura Quinney (English) and Govind Sreenivasan (History)
"Dante's 1564 Divine Comedy and Censorship"
Robert D. Farber University Archives & Special Collections, 
Dorothy Kim, Faculty Lunch Lecture (Mandel Cnt Humanities)
October 17, 2019
12-1pm
MCH 303, Reading Room
"Exploring a Medieval Manuscript: Race, Blackness, and St. Margaret"
Dorothy Kim (English)
2nd-Year PhD Symposium
October 22, 2019
11:30-2pm
MCH 303, Reading Room
2nd-year PhD students will present their work.
Toi Derricotte
October 22, 2019
5:30pm
Bethlehem Chapel
Poet and essayist Toi Derricotte is a co-founder of Cave Canem, a culture-builder, a consistent feminist voice in letters.  Her most recent collection of poems is I: New and Selected Poems, and her literary memoir, The Black Notebooks, was a New York Times Notable Book of the Year.  Her honors include the 2012 PEN/Voelcker Award for Poetry and the Distinguished Pioneering of the Arts Award from the United Black Artists.  
Poetry as a Space for Activists to Recharge and Replenish
October 28, 2019
6:30
Poetry as a Space for Activists to Recharge and Replenish: An Event in Preparation for the Visit of Dr. John Paul Lederach, Led by Liz Bradfield 
Time: 6:30pm
Location: Abraham Shapiro Academic Complex Atrium 
"The process of paying attention to poetry, listening to a voice that seems to come from nowhere in the midst of turbulent inner seas, is very much like sorting through the storms of protracted conflicts." - Dr. John Paul Lederach
The internationally recognized peacebuilder Dr. John Paul Lederach is coming to campus at the end of October. Lederach talks quite a bit about how, for him, poetry - haiku in particular - has been a place to recharge and reflect for his more political work. In this hour-long discussion, we'll read excerpts from John's book, take time to write together, and share our experiences of how the focus of writing poems can refill the wells that oftentimes get drained through activist work of all kinds.
We will read excerpts of The Moral Imagination, in which Lederach talks about what poetry has meant to him, discuss how his words apply to our own work, write, and think about "writing as respite" - as a place where activists can recharge and reflect and consider things through a different lens.
Liz Bradfield, a professor of creative writing at Brandeis, will lead the discussion and writing exercises.
Refreshments provided. Sponsored by the Creative Writing Program and cosponsored by the Minor in Creativity, the Arts, and Social Transformation (CAST). 
For more information, contact Elizabeth Bradfield.
Rachel Ablow
November 14, 2019
3:30-4:30
DuBois/Rabb 119
Rachel Ablow, Victorianist and  Chair of the University of Buffalo English Department, Humanities Director for the UB College of Arts and Sciences, is the editor of the journal Victorian Literature and Culture. She will make a short presentation,  "How Peer-Reviewed Publication Works" and then take questions, demystifying the nuts-and-bolts of the process. The presentation is for the benefit of  Professor Anjaria's graduate Realism seminar, the Article Publication Workshop and the Graduate Proseminar, but it is also open to all other interested graduate students. Her visit is funded by a Teaching Innovation Grant.
Faith Smith, Close Looking (MCH)
November 20, 2019
3:30-5
Rose Art Museum
Faith Smith (English) and Raysa Mederos (Romance Studies)
Zilia Sánchez, Las Troyanas [The Trojans], 1987-1997

Graduate Student Presentations
November 21, 2019
3:30-4:30
DuBois/Rabb 119
More info to come
Cameron Awkward-Rich
February 11, 2020
5:30
TBD
Cameron Awkward-Rich is the author of Sympathetic Little and Dispatch. His poetry has appeared in American Poetry Review, Academy of American Poets Poem-a-day, has won acclaim in spoken word circles, and explores the poetics of family and self from a black, trans vantage. Cameron has received fellowships from Cave Canem and Duke. He is an assistant professor of Women, Gender, Sexuality Studies at the University of Massachusetts Amherst.
Mary Baine Campbell, Bridging the Two Cultures
March 5, 2020
12-1pm
MCH 303, Reading Room
"Dreaming and Sleep"
Leslie Griffith (Neuroscience) in conversation with Mary Baine Campbell (English)
Larry Rosenwald
March 12, 2020
3:30-4:30
More info to come.
Vera Tobin
March 26, 2020
More info to come.
John Plotz, Bridging the Two Cultures
March 26, 2020
12-1pm
MCH 303, Reading Room
"Visualizing the Invisible"
John Wardle (Astrophysics) in conversation with John Plotz (English)
Malaka Gharib
March 26, 2020
5:30
TBD
Malaka Gharib is an editor and digital strategist at National Public Radio. Her first book, I Was Their American Dream, is a graphic memoir that focuses on her experience as a Filipino-Egyptian-American. In a starred review, Kirkus Reviews praised the book as "A heartwarming tribute to immigrant families and their descendants trying to live the American dream." 
Graduate Student Presentations
April 2, 2020
3:30-4:30
DuBois/Rabb 119
More info to come
Brandeis Novel Symposium
April 24, 2020
TBD
Past Events
Dissertation Fellowships: How to Craft an Application
September 26, 2019
This information session will introduce graduate students to the basics
of crafting a strong fellowship application, focusing on dissertation-year fellowships such as the ACLS.
Minima Moralia Today: A Symposium
September 20, 2019
9:30-5:30
MCH 303, Reading Room
Invited speakers:  S.D. Chrostowska (York University), Andrea Dara Cooper (University of North Carolina), Jakob Norberg (Duke University)
 
The year 2019 marks the 50th anniversary of the death of the renowned critical theorist Theodor Adorno. To mark his passing, this symposium will reflect on, engage with, and theorize about the lasting impact of his work. In particular, this symposium takes as its core text Minima Moralia: Reflections from Damaged Life, a philosophical touchstone for the latter half of the twentieth century and the beginning of the twenty first. The symposium will investigate the ways that Adorno's reflections address the damages of contemporary life and/or conceptions of that damaged life.
 
Additional questions the symposium will raise include the contemporaneity of (or lack thereof) Minima Moralia and Adorno's distinctive negative dialectics; prospects for interdisciplinary approaches to the text and the problems it examines; the exemplary aspects of Adorno's implicit dialogue with his friend Max Horkheimer; and the relevance of Minima Moralia for literary, philosophical, sociological, and religious studies. 
Grace Talusan
September 18, 2019
5:30
Bethlehem Chapel
Incoming Fannie Hurst Visiting Writer Grace Talusan will read from her work. Grace's first book, a memoir entitled The Body Papers, was published last April to enormous acclaim from the New York Times ("indelible"), Nylon ("a book of hope"), The Boston Globe ("moving and eloquent, candidly courageous") and many other publications. The Body Papers is a powerful and unforgettable chronicle of Grace's experiences as a Filipino immigrant and a survivor of sexual abuse and cancer. 
Senior Honors Thesis Reading
April 29, 2019
Join us in celebrating the work of our senior creative writing honors students! Food and refreshments at the reception to follow. Sarah Terrazano, Salena Deane, Rebecca Kahn, Otis Fuqua, Hannah Sussman, and Morgan Mayback will be presenting their original work. 
Brandeis Novel Symposium
April 12, 2019
12-6, with student sessions in the morning.
MCH
The third annual Brandeis Novel Symposium will address the 
graphic novel
, with particular attention to three texts: Sonny Liew's 
The Art of Chan Hock Chaye
, Alison Bechdel's 
Fun Home
, and Scott McCloud's 
Understanding Comics
.  
Ph.D. Alumni Panel
April 1, 2019
3:30-5:30
MCH, Atrium
Panel: Megan Hamilton '14, Holly Jackson '08, Daniela Kukrechtova '08, Jessie Stickgold '11, and Aaron Worth '04.
Lunchtime Lecture Series
March 18, 2019
Three graduate students, Danielle Gati, Haram Lee, and Brenden O'Donnell, will be presenting their work as part of our lunchtime lecture series.
deis IMPACT College - Critical Race Theory w/ Professor Patrick Sylvain
February 8, 2019
This course traces an intellectual and political history of critical race theory that begins in law classrooms in the 1980s and continues in the 21st century activist strategies of Black Lives Matter movement. We proceed by reading defining theoretical texts alongside African American literature of the 20th and 21st centuries.
Complete list of 'deis Impact! events.
Mira T Lee Reading
October 23, 2018
5:30 p.m.
Harlan Chapel
Mira T. Lee's debut novel, Everything Here is Beautiful, was selected as a Top Winter/2018 Pick by more than 30 news outlets, including The Wall Street Journal, Huffington Post, O Magazine, Poets & Writers, and New York magazine.  In her previous lives, Mira has also been a graphic designer, pop-country drummer, salsa dancing fanatic, and biology graduate student. An alum of Stanford University, Mira currently lives in Cambridge, MA. 
"A tender but unflinching portrayal of the bond between two sisters--one that's frayed by mental illness and stretched across continents, yet still endures..."—Celeste Ng. "If you love anyone at all, this book is going to get you." – USA Today. 
Dissertation Fellowships: How to Craft an Application
October 8, 2018
This biweekly proseminar addresses the social and professional aspects of academic work in literary studies. Our series of discussions and workshops will cover skills useful for teaching and scholarship, practical issues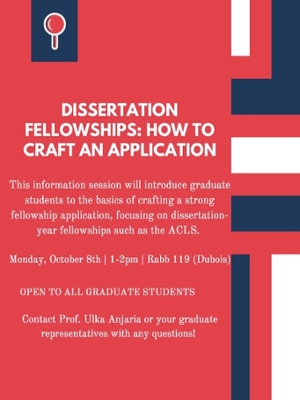 such as navigating graduate school, institutional questions about academic and related work, and larger questions about the future of the humanities. The course format combines discussion, brief presentations and guest speakers, and is intended to accommodate a wide range of student concerns and interests. The required course text is 
Karen Kelsky, 
The Professor Is In: The Essential Guide to Turning Your Ph.D. Into a Job