Gabrielle Everett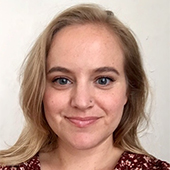 Lecturer in English



PhD, Rutgers University

Pronouns: She/her/hers
Research Interests
African-American literature; affect theory; critical race studies; Black poetry and poetics; nineteenth- and early-twentieth century American literature and cultural studies.
Awards
Mellon Foundation Summer Research Grant
Graduate Program of Literatures in English, Summer Research Grant
School of Arts and Sciences TA/GA Professional Development Award
Selected Publications
Preface to "How Time Flies" by Pauline E. Hopkins. Modern Drama, 62. 4 (Fall 2019).
Current Projects
Book Manuscript: Blushing Bitterly: An Affective and Literary History of Racial Uplift After Reconstruction.
 Article: "Beyond 'Standards of Feeling': The Bitterness of Racial Uplift in Charles Chesnutt's The Marrow of Tradition." Under review.                                                                                                       
Article: "Reading 'The Veil of Black': Affective Legibility and National Belonging in Frederick Douglass and Thomas Jefferson." Under review.
Research Fellow: Black Bibliography Project