Paige Eggebrecht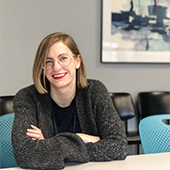 PhD - ABD
MA in English Language and Literature, University of Virginia, 2014
BA in English with minors in Economics and Linguistics, University of Colorado, 2011
Office Location: Rabb 
pme89@brandeis.edu

Co-Director Brandeis University Writing Center (2019)
Interim Co-Director of the Writing Center (Fall 2017)
Second Year Symposium Co-organizer (2016)
Co-Director, 2016 English Graduate Conference
Research Interests
19th C. literature, Novel studies, Economic theory and history, the social-problem novel and industrial fiction; the Gothic, Posthumanism, and Science-Fiction Film and Television
Advisor
Professor John Plotz
Presentations
"De-Periodizing Urban Spaces." NeMLA, Annual Convention. Baltimore, Maryland. March 2017. Panel Co-Chair.
"The Speculative Lives of Joint-Stock Companies" North American Victorian Studies Association. Phoenix, AZ. November 2016.
"Useless Parts: Character and Machine in Brontë's Shirley" Second Year Symposium, Brandeis University. November 2015.
"Wayward Monies: Anxieties of Value in Radcliffe's The Mysteries of Udolpho" British Women Writers Conference, Unviersity of New Mexico. April 2013
Awards
Mellon Dissertation Research Grant (Summer 2019)
University Prize Instructorship (2018-2019)
Digital Literacy Grant for UWS Instructors, Experiential Learning and Teaching at Brandeis (Fall 2016)
Classes Taught & Assisted
UWS: Crowded Futures: Population Horror in Dystopian Cinema (Fall 2019 & Spring 2020)
Smoke and Brick: Working Class Literature in the Industrial Age (Fall 2018)
(TF) Studies in Popular Culture, Professor Paul Morrison (Spring 2018)
UWS: Like, but not Like: Uncanny Futures in Science-Fiction (Summer & Fall 2017)
(TF) Bollywood, Professor Ulka Anjaria (Spring 2017)
UWS: The Good, the Bad, and the Slimy: Aliens of Science Fiction (Fall 2016, Spring 2017, Summer 2018)
(TF) Romanticism: Gods, Nature, Loneliness, Dreams, Professor Laura Quinney (Spring 2016)
(TF) Anne Sexton & Sylvia Plath, Professor Dawn Skorczewski (Fall 2015)
(TF) The Films of Disney, Professor Caren Irr (Spring 2015)
Favorite Work
Elizabeth Gaskell "North & South"