Nicole Steinberg '04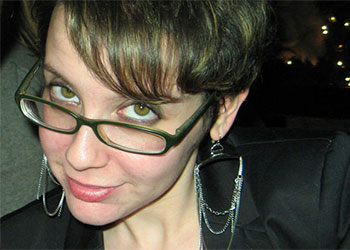 I attended Brandeis because my mother told me to. Not really an interesting story, I know. I didn't have a particular college in mind and I only knew that I wanted a liberal arts education. When the acceptance from Brandeis came in the mail, my mother screeched at the top of her lungs, insisting that I couldn't turn it down. "It's BRANDEIS," she exclaimed. "You HAVE to go!" So I went.
Once there, it was difficult for me to find my niche. I was caught somewhere between writing, art, and theater, not knowing which direction would suit me best—not knowing if any of them suited me at all. I'd been accepted to a writing program elsewhere but had turned it down, for fear that I'd wake up one day, look at my choices, and say, Jeez, writing, what was I thinking? Plus, there was the screeching—very convincing. My closest friends on campus were other students who had trouble finding a place to belong. We all thought about going elsewhere, often threw up our hands in frustration with our experiences. The punch line of the story is that, for one reason or another, we all stayed put at Brandeis. For me, it had to do with a poetry workshop I took in my second semester of freshman year with the astounding Olga Broumas.
People talk about life-changing experiences; I'm not really one for casual melodramatics. But I can say with all certainty that my first college-level workshop with Olga opened my eyes. For the first time, I was encouraged to be thoughtful about the words I put down on the page. She offered us books to take home and read, straight from her personal collection—there was a helpful sticker on every spine to remind us they were hers—and I devoured anything I got my hands on, jotted down favorite lines in notebooks for future reference. She would look at my work—at the time, mostly angry poems sprung from the melancholia of late teenage angst—and she would tell me to go deeper. "This isn't what you really want to write about," she'd say. And I came to realize that she was right; there was, and is, so much more to say.
I became a workshop junkie for the rest of my Brandeis career, making sure I took at least one every semester, even when I studied abroad. Olga, along with Jayne-Anne Phillips and visiting writer Jill McCorkle, were my sources of writerly provocation and inspiration. I knew I wasn't done with the workshop format when it came time to graduate, so after doing a double thesis, I headed to The New School in New York to get my MFA in poetry. I've been out of graduate school for five years now and sometimes I miss that exchange of ideas, that sitting around a table and devoting oneself entirely to the work. My writing workshops are my fondest memories of Brandeis; they gave me the strength to be self-critical and allowed me space to grow.
So what have I been up to in the past few years? Mostly bumming around the New York literary scene. I've developed a reputation as a writer who helps other writers. I edited LIT, The New School's graduate literary magazine for a few years, and in 2005, I founded a reading series called EARSHOT, dedicated to emerging writers of all levels and genres. The series is still going strong, and now that I live in Philadelphia, I'm thinking about branching out here. As for publications, my poetry has appeared in a number of journals and magazines. I recently published a chapbook with Dancing Girl Press, Birds of Tokyo, and earlier this year, I published a literary anthology with SUNY Press about my hometown: Forgotten Borough: Writers Come to Terms with Queens. I'm currently shopping around my first full-length poetry manuscript, "Getting Lucky," made up of sonnets that are found poems, with text culled from Lucky magazine. (Oh, yeah, Olga also taught me what a found poem is. Life lessons learned.)