What's Happening
IMPACT: IMAGINING TOGETHER
Platform for Arts, Culture and Conflict Transformation
Designing a university-based infrastructure for the field

New Report-
"Imagine IMPACT: An emerging strategy to strengthen the arts, culture, and conflict transformation ecosystem"

2018-2019 Annual Report: Creativity, the Arts and Social Transformation (CAST)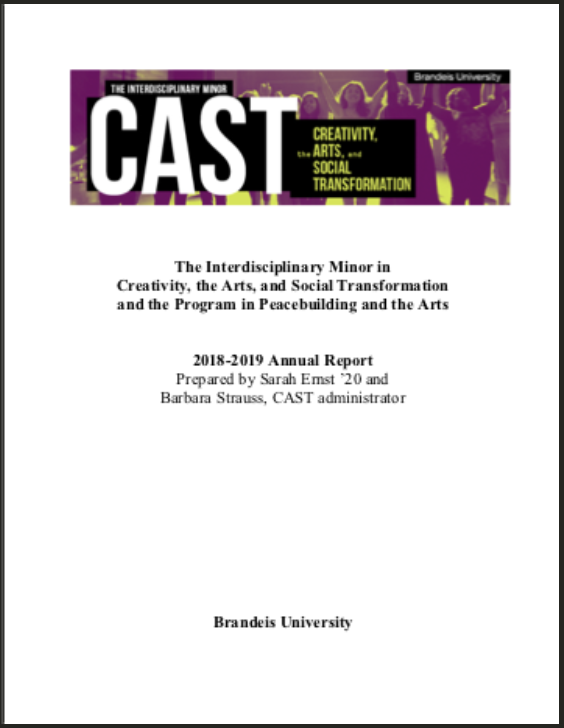 Newsletter
Sign up to receive updates about the Peacebuilding and the Arts program and the Acting Together project.


Highlights
Naila and the Uprising
PBS Special


Featured News from the Field Theme: "The Impact of Authoritarian Regimes on Artistic Freedom and Expression"

Songbook: Let's Make a Better World: Stories and Songs by Jane Sapp
*Purchase Now!*


And listen to the related podcast series.

Sarah Terrazano wins Academy of American Poets Prize

A Reflection on Ebony Axis
By Sarah Nzisabira


Past News from the Field Theme: "Artists Respond to Climate Change"
Past News from the Field Theme: "Creative Reflections on Human Migration"

JPSFiction
Creative Ecofiction

Professor Cynthia Cohen Solves the World's Problems with Creativity
The Brandeis Hoot


"Arts and Building Peace: The Basics and Envisioning the Future"
Essay by Cynthia Cohen
Peace in Progress Magazine


Interview with Lee Perlman about the
book "But Abu Ibrahim, We're Family!"

Read more News from the Field.
Acting Together Documentary
"Acting Together" Documentary Selected to Receive a
2012 Telly Award

June 8, 2012 – The Telly Awards has named Cynthia Cohen and Allison Lund as winners in the 33rd Annual Telly Awards for their piece titled "Acting Together on the World Stage."  Selected from nearly 13,000 entries from all 50 states and numerous countries, Telly Award is the most well-known and prestigious professional video industry award, this is a tremendous honor for the production team including Theatre Without Borders, Brandeis University's Peacebuilding and the Arts program, and filmmaker Allison Lund.
The Telly Awards was founded in 1979 and is the premier award honoring outstanding professional video and film productions. Winners represent the best work of the most respected advertising agencies, production companies, television stations, cable operators, and corporate video departments in the world.
"The Telly Awards has a mission to honor the very best in film and video," said Linda Day, executive director of the Telly Awards.  "Cohen and Lund's accomplishment illustrates their creativity, skill, and dedication to their craft and serves as a testament to great film and video production."A prestigious judging panel of over 500 accomplished industry professionals, comprising the Silver Telly Council (Silver being the highest presented award), judged the competition, upholding the historical standard of excellence that Telly represents.  "Acting Together on the World Stage" won a Bronze Telly in the Education category.
This July will mark one-year anniversary of completion of the documentary, "Acting Together on the World Stage." This award is both a tremendous honor and great recognition of our on-going effort for promoting peace through the use of arts. If you want to get involved in the Acting Together project, please contact Polly Walker at pollyowalker@gmail.com. View the screening event calendar and learn more about the Acting Together project.