Past Events
Braided Memories: A Journey of Words and Photographs
October 20, 2020
HBI Project on Latin American Jewish & Gender Studies
Poet and scholar Marjorie Agosín and photographer Samuel Shats explore the truth that lies in fragmented memories, the legacy of refugees defined by truncated pasts, and the power of art as a vehicle for healing across generations.
Wandering Jews and Latinx Migrations
October 8, 2020
HBI Project on Latin American Jewish & Gender Studies
During Sukkot and Latinx Heritage month, join HBI Project on Latin American Jewish & Gender Studies and Jewtina y Co., for a panel discussion on contemporary Jewish Latinx migration in the context of race, gender, and legality.
Co-Sponsored by Jewtina y Co., Brandeis Alumni Association, the Latin America Initiative, International Business School, Brandeis Latin American and Latino Studies Program, Brandeis Hispanic Studies, J-Lats Princeton
Latina Jews Crafting Bridges
February 27, 2020
A conversation with Aileen Josephs '86, Rosa Lowinger '78 and Dalia Wassner as they engage the many ways Latina Jews are impacting America in the fields of law, architecture, art and academia. 
The event was co-sponsored by Brandeis Alumni Club of South Florida and HBI's Project on Latin American Jewish & Gender Studies.
Next Year in Argentina
February 12, 2020
A film screening of "
Next Year in

 

Argentina
", introduced by Jonathan Sarna, Director of the Schusterman Center for Israel Studies and followed by a panel discussion including Raanan Rein, Elías Sourasky Professor of Latin American and Spanish History and Vice President of Tel Aviv University;
 Tali Flomenhoft
, Associate Director of Parent and Family Giving at Brandeis University
; Adrián Krupnik, postdoctoral fellow at Tel Aviv University and the University of Potsdam and a Schusterman Center for Israel Studies Summer Institute fellow.
25 Years Since the AMIA Bombing in Buenos Aires
July 18, 2019
Please join Latin American Jewish & Gender Studies as we commemorate the 25 years since the AMIA bombing in Buenos Aires.
Leona
May 9, 2019
Boston Premiere
Q&A with Dalia Wassner
May 9, 2019
Director, Project on Latin American Jewish & Gender Studies
Hadassah-Brandeis Institute
May 9, 2019
New England Premier.
Q&A with filmmakers Judy Kreith and Robin Truesdale
Moderated by Dalia Wassner
Words and Artifacts: Treasures of a Cuban Jewish Exile
April 10, 2019
Ruth Behar
Latinx Jewish Clergy:  An American Conversation
February 13, 2019
Cantor Elias Rosemberg, Temple Emanuel of Newton

Rabbi Claudia Kreiman, Temple Beth Zion of Brookline

Rabbi Sonia Salzman, Emeritas, Temple Ohabei Shalom of Brookline

Rabbi Michael Fel, Temple Emunah of Lexington
A Latin American Pen, A Global Memory: Imagining Anne Frank Today
November 1, 2018
Brandeis University Spring 2018 Course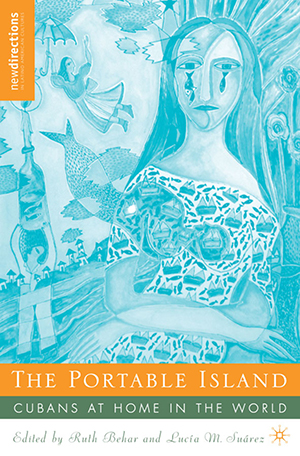 Spring 2018
Dalia Wassner's Spring 2018 course, The Jews of Latin America, was generously funded by a gift from the Targum Shlishi Foundation. The course was offered jointly through the Department of Near Eastern & Judaic studies and the Latin American & Latino studies program of Brandeis University. Drawing on the works of public intellectuals, writers, artists, playwrights and filmmakers, the course provided a textured cultural understanding of the Jewish experience in Latin America and of Latin America's experience of its Jews.
"South American Women Making Trouble" 
Dalia Wassner
"Rabbis and Artists South of the Border: Resisting Authoritarianism" 
Rabbi Claudia Kreiman and Dalia Wassner
"South American Feminists: Cultural Contestations to Political Oppression"
Dalia Wassner
Temple Emanuel Film Screening "Los Abandonados"
Dalia Wassner and Cantor Elias Rosemberg
Boston Jewish Film Festival, "Subte-Polska"
Dalia Wassner moderated Q&A