December Grads: Ease the Fright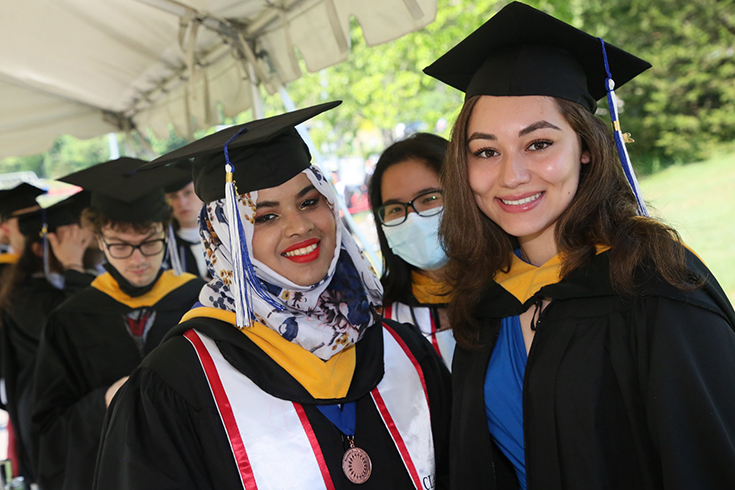 Halloween is more than a month away, so why are we already sending chills down your spine talking about graduating!? We know how quickly time flies as a December grad, which is why Hiatt is here to reduce the fright and illuminate your path for those first few steps post-college.
Consider Your Immediate Goals
After graduation, you may want to jump right into the world of work. Perhaps you want additional time to reflect on their interests in preparation for a later job or grad school search. Maybe you just want a break to catch your breath.
All of these things are valid! By thinking about your unique life circumstances and identifying your immediate goals post-graduation you will be in good shape to use your time effectively.
It's OK To Not Have It Figured Out
Your career is a journey of many small decisions that you make along the way. Some of you might feel pressure to know exactly what you want to do as soon as classes are over! But just know that you don't actually need a forever plan.
Instead, focus on what you might like to do next. Hiatt can help you examine your interests and connect your college experiences to whatever next steps make sense for you.
Check out Beyond Brandeis to be inspired by where recent Brandeis grads live and work right after graduation, you can browse by major, industry and location.
We've Got You Covered in the Job Search
From identifying your interests to researching employers and opportunities to prepping your application materials and assessing offers, Hiatt has many job search resources and adulting support available to help December grads put their best foot forward.
Pro tip: Winter holidays can bring us together with friends and family we haven't seen in a while. Use the opportunity to mention your career thoughts and remain open to unexpected leads.
But, When Should I Apply?
Get a sense of when employers are ready to hear from you by reviewing the Industry Recruiting Timelines. Keep your profile up to date on Handshake to receive industry-specific updates about events and opportunities through email and on the Handshake dashboard.
In general, October is not too early for December Grads to apply for positions if you are looking to start right after graduation. And don't assume that the job market is frozen just because it's the holidays! Even with hiring ebbs and flows, there will still be opportunities available.
At the very least, remember to stay focused and proactive while conducting your job search.
Brandeis Strong!
Check out the Rise Together Mentor Network to connect with Brandeis students and alumni from all over the world to learn more about industries, careers and the world of work.
As a December grad, you can use networking as an opportunity to obtain information about industries, companies and positions, even if the employer is not hiring at the moment.
Hiatt is so proud of all you have accomplished! We are happy to provide support even after you graduate. Keep in touch and schedule an appointment with a counselor for individual strategy sessions whenever it makes sense for you.