Say 'Hi' to Hiatt's New Faces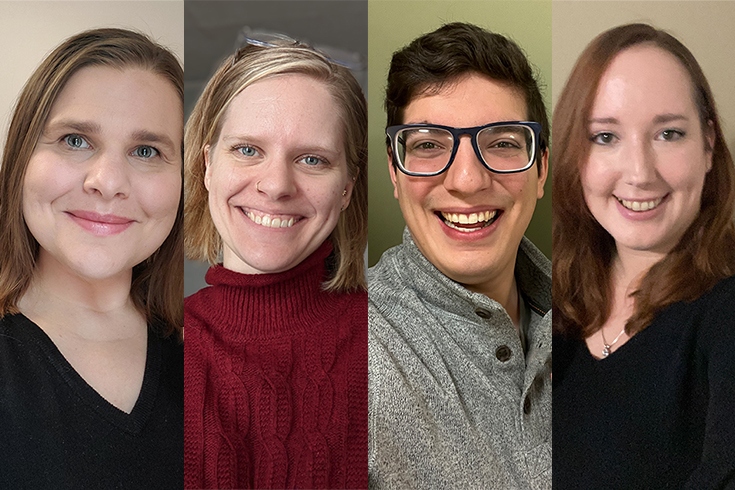 The Hiatt Career Center might look a little different when you visit this semester. No, we didn't renovate the office into our HGTV dream home...yet. Instead, we went one step further with a change you can witness both virtually and in-person (when we return).
Over the past few months, we've been steadily adding new members to our team! So, it's about time you got a chance to meet these talented individuals who are the new faces at Hiatt.
Megan Campbell
Megan is one of our new Assistant Directors of Career Development. She loves to answer any questions related to healthcare, STEM: science/research or non-profit careers, and all matters related to job and internship searches or thinking about the next steps. She has a special affinity for folx who identify as first-generation, low-income, LGBTQIA+, or those who anticipate challenges as they transition between jobs or into a job. READ MORE ABOUT MEGAN
Jessica Smith
Jessica is the most recent full-time addition to Hiatt as an Assistant Director of Career Development. She specializes in careers relating to STEM, especially computer science, technology and engineering. She enjoys helping all students find and pursue their career passions. READ MORE ABOUT JESSICA
Charlotte Walker
Charlotte will be bolstering the Hiatt Career Development team part-time this semester. She enjoys helping students explore their career options, gain self-awareness, and locate opportunities. She has a special affinity for working with first-generation students and those interested in the non-profit sector.
Kyle Davi
Kyle is the newest member of our Management and Operations staff, overseeing all of Hiatt's outward-facing communications. He most enjoys sharing students' stories that depict our impact on their lives and the unique value the career center brings to students, alumni, organizations, and more. READ MORE ABOUT KYLE
We're excited to welcome all of these new team members as we continue to expand our commitment to serving the Brandeis community. We guarantee you'll be head over heels with them as well when you finally meet.
So why wait?
Schedule an appointment
on Handshake today to discuss your career plans. Staff work with all students and alumni in all areas of interest and majors, but also have areas of specialty and interest. Learn more about the entire
Career Team
and say "hi" to some of Hiatt's new faces.