App Development and Marketing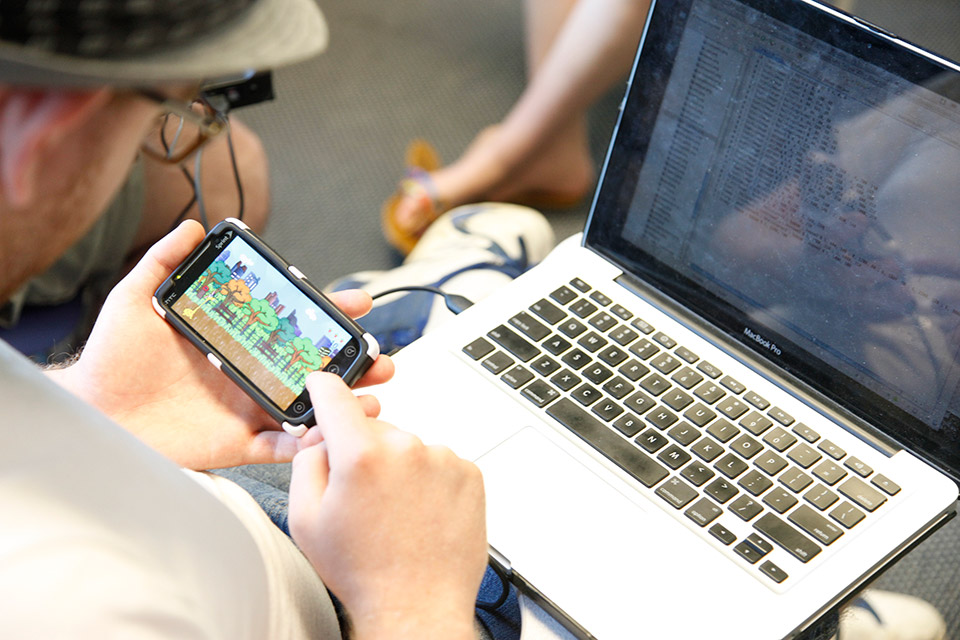 Instructors: Tim Hickey and Grace Zimmerman.
Duration: 9 weeks, June 1-July 31, 2020.
Credits: 12.
This program teaches the fundamental concepts behind the design, development, testing and deployment of web and mobile apps, combined with a business-focused exploration of marketing for the high tech market.
Throughout this nine-week program, students will deepen their understanding of software development and marketing through the creation of a working prototype of a web and mobile app and crafting a product launch marketing campaign for their app.

To create their app, students will learn how to develop applications using a highly scalable multiplatform approach. On the server side, they will learn the state-of-the-art algorithms and methodology for building servers in the cloud that can scale rapidly as demand increases. For the client side, they will learn how to create applications that run on web browsers and also run on all mobile devices.
To market their creation, students will learn to use a wide variety of social media and marketing communications techniques. These strategies are used to effectively market products and brands, develop advertising and social media campaigns, evaluate word-of-mouth and corporate blog promotional activities, and refine search engine optimization and marketing plans.

This JBS program will empower students to create applications that allow them to use computer science to create value in people's lives, and will give participants the experience of developing a real marketing campaign for their startup product. The program will also invite speakers from local companies to give presentations to the class once a week, allowing students to expand their knowledge of the market while strengthening their professional networks. In addition to developing a deep understanding of what is involved in creating and marketing a mobile and web application, students will gain practice in oral and written presentation of their ideas and in developing high-tech products in small groups.
Program Highlights
First offered in summer 2019, this program combines aspects of two JBS programs from other summers: Voice, Web and Mobile Apps (2014-18) and Brand Marketing and Communications (2014 and 2015). Activities, guest speakers, field trips and assignments will vary; however, in the years that Voice, Web and Mobile Apps and Brand Marketing and Communication were offered, students enjoyed:
Guest speakers from area tech companies, giving students the chance to learn about the current state of the high-tech industry in Massachusetts.
Visiting an area tech company like Amazon's Alexa Speech Lab for an inside look at Amazon's speech recognition technology. Then, students engaged in a friendly "hackathon" competition to develop applications for the Amazon Echo speech device.
Learning about user-centered design and design axioms from experts working in the field.
Spending weeks in a "start-up culture," where students collaborated in small project teams to design and build their own working apps. Here are some example apps JBS students developed in previous summers:

The Chef's Assistant App, a hands-free app that features over 300,000 recipes with voice-activated, step-by-step instructions. Users can search by the ingredients they have on hand, the type of cuisine they want to prepare or special dietary restrictions.
PlanDeis, an app that helps students access course data for all Brandeis courses since 2004. The data can help students plan out their classes for the coming year, including schedules for one or more majors.
Virtual Pet, an online pet you can talk with. It will tell you the weather or a joke, allowing you to navigate between pages using voice commands.
Ideal For
This program is designed for both undergraduate and graduate students and is open to those who have taken the first course in computer science (COSI 12b) or the introductory marketing course (BUS 10a). Admissions preference will be given to students who have taken both of these introductory courses.
Students in this program will earn 12 credit hours and fulfill one social science (SS) and two science (SN) requirements toward graduation. For most students, one JBS may count as a semester of residency toward graduation. All students, particularly transfer students, should review the terms and conditions for academic residency requirements.
Students will also earn two 100-level COSI electives toward a computer science major or minor, and all three courses will count as business electives toward a business major (BUS 134aj qualifies as a business elective, and COSI 152aj qualifies as an Applied Methods BUS course. COSI 154aj qualifies as a business elective under either Applied Methods or Innovation and Strategy — at the student's election — but not both).
Curriculum